How Covid-19 Has Affected Women's Financial Health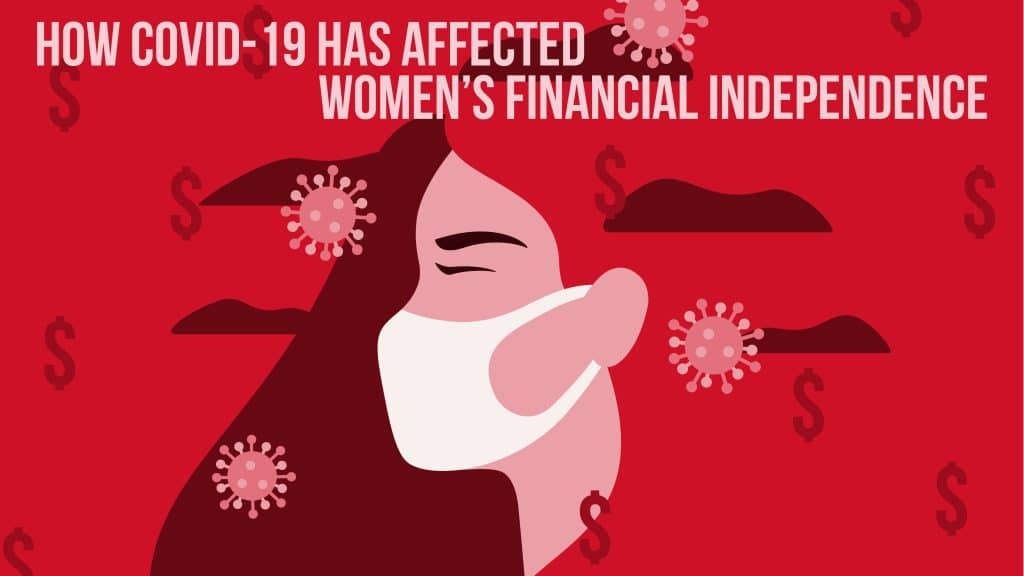 Over the past two years, we have seen many things shift and change as a result of the COVID-19 pandemic. One of the more dramatic effects of all these changes has been the impact on women's financial health.
Since the early phase of the pandemic, women were more likely than men to lose or leave their  jobs. Many women chose to start their own businesses, further their education, stay home with their children, or change career paths entirely. As a result, women's overall financial health was often impacted.  Additionally, women are also more likely to let money worries affect their well-being, stop retirement plan contributions, and take early withdrawals from qualified retirement accounts. In honor of Women's History Month, Guest blogger Nichole Coyle, CERTIFIED FINANCIAL PLANNER TM, shows how women are now gaining traction with their financial health.
How Women Feel About Financial Health
Capital Group's Wisdom of Experience Investor Survey of approximately 2,000 American women and 500 men found that 28% of women say they reduced or stopped contributions to employer-sponsored retirement plans during the pandemic. An equal number expect to delay their retirement.
But on the positive side, 43% of women say they now place more importance on saving for retirement. 32% say they are spending more time thinking about their finances and overall financial health.
Many women now feel more comfortable talking about their financial situations and sharing their experiences. More than half of women surveyed discovered that communicating with other women about their finances helped them find common ground. They were also more motivated to gather new knowledge and implement new strategies.
Who women turn to for advice about their financial health depends on their age, race, wealth, and other factors. Some women are system-connected, turning to financial professionals, financial advice at work, and other traditional financial resources. Still, different groups of women tend to be more socially connected and are more likely to turn to established social networks among family and friends, social media, and online or public sources for financial information.
It probably won't surprise you, but the survey shows system connection correlates with increased financial stability. So, while social networks and advice from family and friends can help get you started, this may not be the best long-term strategy. Rather working with a financial professional can help build a strong foundation and continue to grow personal wealth.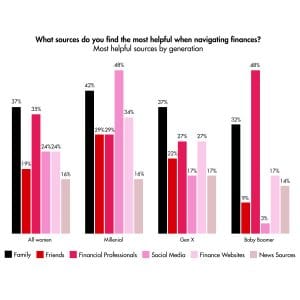 Source: Capital Group, Women's financial futures: New financial philosophies taking shape post-COVID-19, April 2021.
Women's Future Financial Health Looks Bright
In general, women have not, historically, been as proactive when it comes to their financial health as men. This may be because there is so much information and it can be intimidating when just starting out. It's also traditionally been a male-dominated field with far fewer female financial advisors available to meet with. Additionally, women typically carry a heavy mental load as caretakers of their families, which can leave little room to deal with other daunting tasks like retirement planning.
However, the financial power of women today is hard to ignore. Did you know that women in the U.S. control roughly $11 trillion in assets? Or that they will inherit $30 trillion in the coming decades? Today, 44% of women earn more than their male partners. This is a huge shift from previous generations.
What's more, millennial women represent a spending power of $170 billion per year, the largest of any generation. When asked about post-pandemic plans, millennial women are more likely to increase their savings rate, use a more aggressive approach, and rely on a financial professional to help build and strengthen their financial health.
Use a Financial Planner to Increase Financial Health
If you're a woman who's working to improve your financial health, you may be wondering what steps to take. Consider meeting with a financial planning professional like myself. In general, a financial planner's purpose is to help you identify and implement strategies to help you meet your goals.
A financial planner will meet with you and talk about essentials like debt management, savings, and retirement as well as your holistic financial picture. This includes short and long-term goals, risk tolerance and money fears, health and wellness, work-life balance, and more.
I've been working in this field for 12 years now, and as a CERTIFIED FINANCIAL PLANNER™, I truly enjoy educating and empowering women to build wealth, protect their legacy, and strive towards their goals. If you have any financial questions, please reach out. I am happy to help!
Nichole M. Coyle,
CERTIFIED FINANCIAL PLANNERTM
20333 Emerald Pkwy, Cleveland, OH 44135
216.621.4644 x1607
Securities and advisory services offered through Cetera Advisor Networks LLC, member FINRA/SIPC, a Broker-Dealer, and a Registered Investment Advisor. Cetera is not affiliated with the financial institution where investment services are offered or any other named entity. Investments are: Not FDIC/NCUSIF insured * May lose value * Not financial institution guaranteed * Not a deposit * Not insured by a federal government agency.
Posted In: Saving, Tips For Managing Finances