Advantage Checking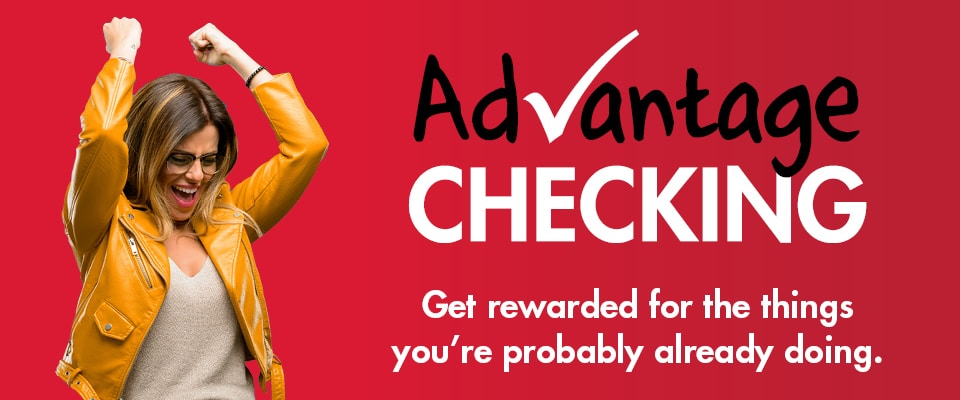 Start earning your 1.00% APY*!
Advantage Checking from FFCCU is designed with real people, like you, in mind. With a qualified account, you can earn 1.00% APY* on your average daily balance between $500-$24,999. PLUS, receive free unlimited POS/ATM withdrawals AND no monthly maintenance fees or penalties if requirements aren't met.
Here's how to earn your 1.00% APY* with Advantage Checking:
3. Use your VISA® Debit Card for 12 or more signature-based transactions (posted to your account) each month*. Track your status here.
And don't worry – there are NO PENALTIES if requirements aren't met in any given month. 
Advantage checking also offers ease and accessibility with these features:
FREE online banking
FREE bill pay
FREE Mobile App
Access to more than 36,000 ATMs across the country
e-Statements
e-Alerts
ATM and VISA®Debit Cards
No minimum balance requirements

As of March 1, 2020.
Account Type
Balance
APY*
ADVANTAGE Checking*
$500-$24,999.99
1.00%
$25,000+
0.01%
*APY = Annual Percentage Yield. Get unlimited ATM withdrawals and earn 1.00% APY when your average daily balance is between $500-24,999.99 when you meet the following requirements:  12 or more VISA Debit Card signature-based transactions posted  to your account each month, enrolled in e-Statements and have direct deposit totaling $500 or more within the same month. Earn .01% on the remaining portion of your balance over $25,000.00.  ATM fees charged by FFCCU are refunded at the end of the month. Only one Advantage Checking account per member. Account is subject to approval.  Call 800.621.4644 for current rates as they are subject to change at any time and without notice. Click here to view full rate disclosures and policies.