With busy lives and hectic schedules, things need to be easy.
That's why we offer a variety of digital banking options, and the ability to access your accounts 24/7. Whether from home or on the road, having the ability to obtain account information when you want, how you want, is important. We offer tools and services that allow you to do just that.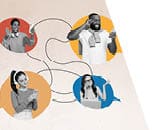 Live Chat: click the link in the lower right hand corner 
Every one of my questions about the Ignite checking account were answered! This credit union is one of my favorites; there is such a calming environment when you enter. Staff is so helpful!! ????
-Jacob O.
Our Financial Service Rep, spoke with the travel agency directly to ensure payment for our dream vacation made the deadline. The process reaffirmed that FFCCU is the best credit union for us!
-The Freeborns
Thanks to Elizabeth for tracking down the reason my debit card was being declined. After verifying my identity with care, she explained the problem, then lifted the hold. You go, girl!
-Hawk T.
Jashira was very nice and courteous! She resolved my issue immediately and asked if she could assist me further. I appreciated the great service and the desire to do more in addressing my concerns!
-Cynthia O.
Clicked the "Live Chat" button, asked my question, got my answer literally within a minute. THIS is what support from a banking institution should be like. Thanks so much for your help!
-Ryan M.
I would like to say a special thanks to Joy for taking the time to help me open up an FFCCU savings and checking account. She was very patient, and polite, and, most of all, helpful.
-Tracy M. H.
I was experiencing an issue activating new cards – it was resolved in no time flat! I'm always happy with the assistance I get when reaching out via chat, and would recommend FFCCU to anyo...
-Cassandra B.
Had a great experience chatting with Jonathan. He was able to help me with my issue quickly, and being able to online chat instead of trying to call was much easier on me, which I appreciate!
-Erin Y.
I cannot say enough good things about the individuals I have worked with – especially when my card number was stolen. The service I have had is why I have moved all my accounts to FFCCU. KUDOS!
-David H.
Beth at our Firefighters Community Credit Union branch location is the best! She took great care of us and was a step ahead of the whole process. Kudos to her for going above and beyond for a member!!
-Sandi K.
Margaret at the West Side branch was great. We had a good time finishing up my new motorcycle loan. I appreciate her reminding me to make sure I adjust my direct deposit for the new loan.
-John & Cindi
Joy at my local FFCCU branch location was amazing! She was so helpful and a pleasure to work with. I'm excited to have a new checking account with Firefighters Community Credit Union!
-Megan M.
*Standard text messaging rates and data charges may apply. Contact your carrier for details.