Hours
Monday
8:30 am – 4:00 pm
Tuesday
8:30 am – 4:00 pm
Wednesday
8:30 am – 4:00 pm
Thursday
8:30 am – 6:00 pm
Friday
8:30 am – 4:00 pm
Saturday
CLOSED
Sunday
CLOSED

Hours
Monday
8:00 am – 4:00 pm
Tuesday
8:00 am – 4:00 pm
Wednesday
8:00 am – 4:00 pm
Thursday
8:00 am – 4:00 pm
Friday
8:00 am – 4:00 pm
Saturday
8:30 am – 12:30 pm
Sunday
CLOSED

WEST SIDE CLEVELAND BRANCH
Hours
Monday
8:00 am – 4:00 pm
Tuesday
8:00 am – 4:00 pm
Wednesday
8:00 am – 4:00 pm
Thursday
8:00 am – 4:00 pm
Friday
8:00 am – 4:00 pm
Saturday
8:30 am – 12:30 pm
Sunday
CLOSED

Hours
Monday
9:00 am – 5:00 pm
Tuesday
9:00 am – 5:00 pm
Wednesday
9:00 am – 1:00 pm
Thursday
9:00 am – 5:00 pm
Friday
9:00 am – 5:00 pm
Saturday
9:00 am – 1:00 pm
Sunday
CLOSED

Hours
Monday
9:00 am – 5:00 pm
Tuesday
9:00 am – 5:00 pm
Wednesday
9:00 am – 1:00 pm
Thursday
9:00 am – 5:00 pm
Friday
9:00 am – 5:00 pm
Saturday
9:00 am – 1:00 pm
Sunday
CLOSED

Hours
Monday
CLOSED
Tuesday
8:00 am – 4:00 pm
Wednesday
8:00 am – 4:00 pm
Thursday
8:00 am – 4:00 pm
Friday
8:00 am – 4:00 pm
Saturday
8:30 am – 12:30 pm
Sunday
CLOSED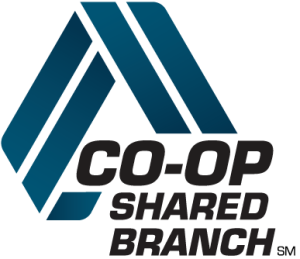 5,000+ More Locations
Members can access
Co-Op Shared Branches
across the country. Just look for this logo or use the locator at the bottom of the page to find the branch or ATM nearest you. Learn more by watching this short video.
Have a question? Contact us
Remember to be safe online:
Do not include your account number or other sensitive information when emailing us.
Contact us for information regarding account information and disclosures
Our branches and offices are closed on the following days. Still need to get into your accounts? No problem. You have 24/7 account access through our secure Online or Mobile Banking.
• New Year's Day | Monday, January 2
• Martin Luther King, Jr Day | Monday, January 16
• President's Day | Monday, February 20
• Good Friday | Friday, April 7 (branches close at 12pm)
• Memorial Day | Monday, May 29
• Juneteenth | Monday, June 19
• Independence Day | Tuesday, July 4
• Labor Day | Monday, September 4
• Columbus/Indigenous People's Day |Monday, October 9
• Veterans Day | Saturday, November 11
• Thanksgiving Day | Thursday, November 23
• Christmas Day | Monday, December 25
• New Year's Day | Monday, January 1, 2024