Firefighters Community Credit Union
Contact Us
Cuyahoga County
Lake County
Lorain County
North Ridgeville Branch (map)
39287 Center Ridge
North Ridgeville, OH 44039
Hours
Monday: 9 am – 5 pm
Tuesday: 9 am – 5 pm
Wednesday: 9 am – 1 pm
Thursday: 9 am – 5 pm
Friday: 9 am – 5 pm
Saturday: 9 am – 1 pm
Sunday: CLOSED

Fax
440.353.9476
Wellington Branch (map)
805 A Patriot Dr.
Wellington, OH 44090
Hours
Monday: 9 am – 5 pm
Tuesday: 9 am – 5 pm
Wednesday: 9 am – 1 pm
Thursday: 9 am – 5 pm
Friday: 9 am – 5 pm
Saturday: 9 am – 1 pm
Sunday: CLOSED

Fax
440.647.4952
---
5,000+ More Locations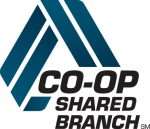 Members can access Co-Op Shared Branches across the country. Just look for this logo or use the locator at the bottom of the page to find the branch or ATM nearest you. Learn more by watching this short video.
Android and iPhone users: click the appropriate icon below or search "FFCCU" to download our app.
Remember to be safe online:
Do not include your account number or other sensitive information when emailing us.