LoanSHIELD

Shield yourself from the unexpected with LoanSHIELD
Life isn't always predictable, which is why we offer LoanSHIELD.  Designed to shield you from the unexpected preventing financial hardships and unnecessary stress, these products ensure you and your vehicle are protected.
GAP with Auto Advantage:
Should your vehicle be claimed as a total loss, or is stolen, Guaranteed Asset Protection (GAP) covers the "gap", or the difference between what your vehicle is worth and what is still owed on the loan. Our GAP coverage also includes $1,000 towards a replacement vehicle when you finance your next car through us. Another added benefit included with GAP is Auto Deductible Reimbursement (ADR). This pays up to $500 per loss when a claim is filed and paid by your primary insurance company. Watch this video to learn more.
(NOTE: ADR is not available for recreational vehicles. but all of the other GAP features apply.)
Credit Life and Disability:
Credit Life insurance will pay off the loan if the borrower should pass away. Disability insurance will cover the loan payment should the borrower become disabled on, or off the job.
Credit Involuntary Unemployment Insurance (IUI)
Pays a benefit for a specified period in the event that the borrow becomes involuntarily unemployed (i.e. layoff, termination by the employer).
Mechanical Breakdown Insurance (MBI)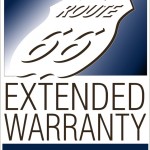 Did you know that 80% of people aren't budgeting for car repairs? If your vehicle experiences a sudden breakdown, you'll be wishing you had saved up some money, especially if your car is out of warranty. Don't wish, make a plan and opt for MBI through Route 66.
This extended warranty offers repairs and service coverage that is comparable, if not better, than the original car warranty. It can be added to your loan payment or purchased separately.
 Route 66 offers inexpensive coverage and comes with these inclusive benefits:
$0 deductible on all plans
30-day money-back guarantee
Transferable
Total loss refund
24/7 roadside assistance: Towing, Lock-out service, Jump-starting service, Fuel delivery
Rental Car Allowance (Price depends on coverage)
Battery coverage (up to $65)
The warranty follows the car: whether you lend your car or sell it, the warranty is in their hands
We strongly encourage our members to take advantage of this service that provides peace of mind and safe travels.
*Qualifications may vary. Please contact FFCCU for details. These protections are not available on Mortgages. Our Home Equity Line of Credit and Home Equity Loans have their own Loan Protection plan, called HE Debt Protect.