Using A Mobile Wallet: a quick user guide

Have you ever used your phone to pay at your local pharmacy or grocery store? If not, you're missing out on the convenience of your mobile wallet. A global study has predicted that around 60% of people worldwide will use digital wallets in 2023. And why not? A simple tap, and you're good to go!
If you're unsure what a digital wallet is or how to use one, stick around to learn everything you need to know in this guide. Plus, download or print our helpful infographic to assist you in using your digital wallet.
What's A Mobile Wallet?
A mobile wallet is a variation of a digital wallet that stores your credit or debit card information on your mobile device (typically your phone). There are a variety of mobile wallet options, including ApplePay, GooglePay, Samsung Pay and Garmin Pay. You may wonder: "if I already have a credit or debit card, why do I need to put this information on my phone?"
Here are just some reasons why a mobile wallet makes sense:
Mobile Wallets Offer Extra Security
Did you know that a mobile wallet may be safer than your credit or debit card? After all, it's easier to drop your credit card or leave it behind without realizing it. You're much less likely to do this with your phone. Besides leaving it behind, mobile wallets use one of the safest forms of encryption: tokenization. In tokenization, a unique identifier is created every time a transaction occurs.
Worried about if your phone is lost or stolen? Don't fret; most mobile wallet apps use biometrics to access your debit or credit cards – such as your fingerprint. This is the same method the Department of Homeland Security uses to verify peoples' identities when entering the United States, administer visa applications, enforce federal law, and so much more. As a final security measure, your cellular carrier can disable your smartphone. With so many security features, it's much more difficult for thieves to access sensitive information.
Simplicity and Ease of Use
Are you in line for coffee, fumbling with your wallet for cash or a card? With a mobile wallet, all you need to do is tap your phone to the contactless terminal at your favorite shop and the transaction is complete! Plus, many mobile wallet apps allow you to track your spending and send or request money from friends. It's easy to keep a budget using your debit or credit card! Along with ease of use, you'll also carry less with you. Imagine going to the store without a bulky purse or wallet. It's a great way to get through the checkout quickly.
You'll Still Get All Your Rewards
Did you know you can use your Most Rewards or Great Rate VISA credit card with a digital wallet? Or your FFCCU debit card? And, you'll still get the rewards you'd earn if you swiped your card, like rewards points with your Most Rewards Card. Or get 2.00% APY* on the average daily balance when you use your debit card with a qualified Advantage Checking account. It's the best way to take advantage of the perks you already receive AND go digital.
Keep Your Debit and Credit Cards in One Place
With a mobile wallet, it's easy to keep track of your credit and debit cards. On most apps, you can switch between cards to pick whether you would like to use a credit or debit card, giving you more control over your account. It also lets you quickly see your most recent transactions on your card when you open your mobile wallet on your phone.
Easy Steps to Use a Digital Wallet Based on Your Device
Want to learn how to use your mobile wallet? Here are some basic steps to keep in mind when adding your FFCCU cards to your mobile wallet of choice: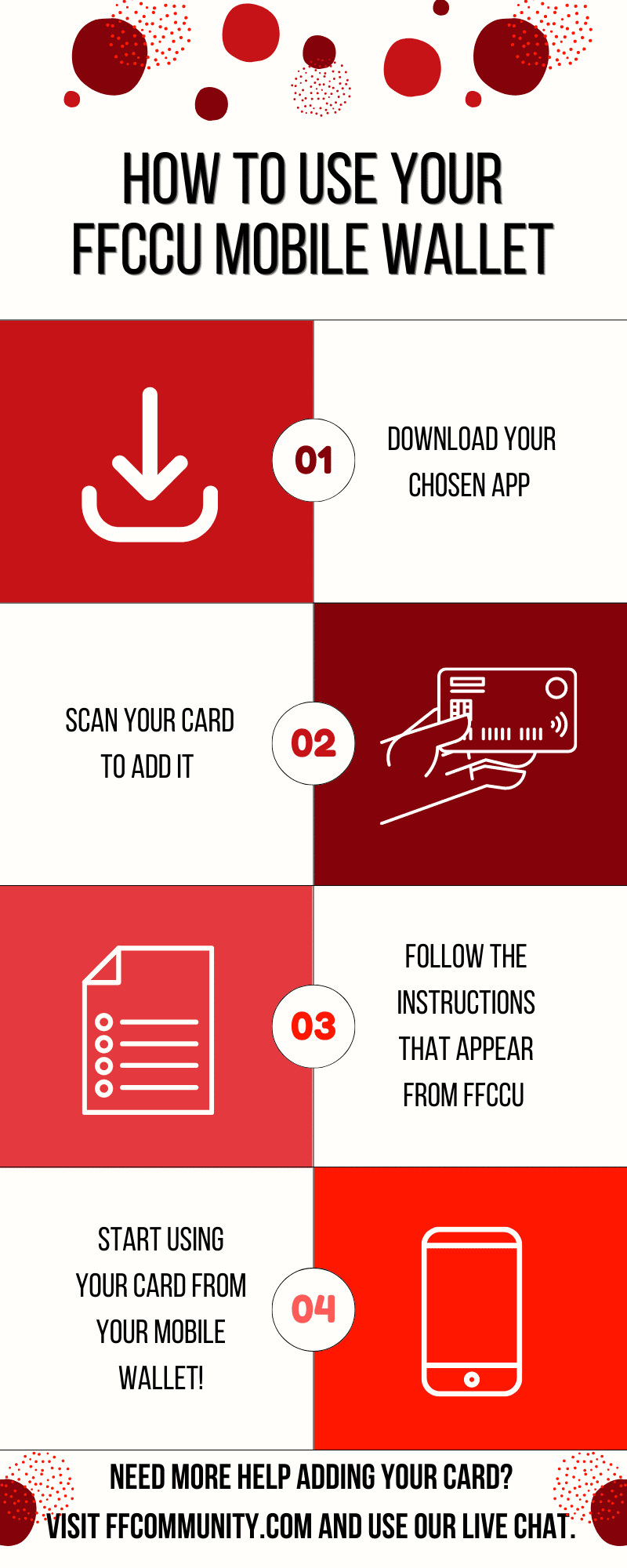 If you're not using a mobile wallet, now is the perfect time to get started! Learn more about each of the mobile wallet options. Need some help? Just visit a branch, call or text 440.621.4644, or chat with us online. We'll help you set up your mobile wallet, so you can have full confidence when using it to shop in-store or online.
*APY = Annual Percentage Yield. Get unlimited ATM withdrawals and earn 2.00% APY when your average daily balance is between $500-24,999.99 when you meet the following requirements:  12 or more VISA Debit Card signature-based transactions posted  to your account each month, enrolled in e-Statements and have direct deposit totaling $500 or more within the same month. For full details and restrictions visit ffcommunity.com/checking-accounts/advantage-checking
Posted In: FFCCU News and Info, Tips For Managing Finances, Uncategorized