Avoid Teenage Money Problems with These Top Financial Tips for Teens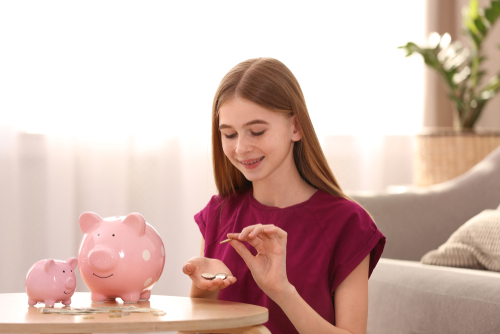 Hey, teens! Your parents may give you some cash toward the things you want to buy, but you may feel better if you could earn and save money to put towards your goals. This is why it's important to know how to handle personal finances and why we're giving you financial tips for teens.
These are the Top Financial Tips for Teens
Use Time Wisely
If you're not making a lot of money, it doesn't matter. What matters is time, and your money will have a lot of it because you're young. For example, if you have a summer job and at the end of it you saved $1,000, you save that money a variety of ways, including:
Opening a savings account or open one with your parents so that you receive a higher interest rate.
Giving a portion of your money to your parents to invest in a business, stocks, bonds, or real estate.
Save your money at home, add to it, and then invest it.
If you invest your $1,000 at a rate of return of 5% and don't do anything else for 50 years, you will have $11,467.49. At the end of 30 years, you would have $4,321.99. Imagine how fast your money will grow if you start saving very early. Time is on your side right now so take advantage of it.
Get into the Habit of Saving
We've touched on saving in the first point, but it begs to repeat. If your parents saved your birthday or holiday money since your birth, you're off to a great start. Keep the momentum going by saving any money given to you by your grandparents, parents, and other relatives. When you get older, you could do things around your neighborhood, such as shoveling snow, babysitting, or mowing lawns. Save the money you receive because it will add up over time.
Create a Budget
It's a good idea to have a teenage financial budget. Why? Because as you get older, you may prefer paying for certain items such as makeup, clothing, and bath and body. Keep in mind that a budget for high school students may have more expenses. For instance, if you have a car, you'll have to budget for gas, insurance, and repairs. However, your parents may help pay for the latter. You want your income to exceed your expenses. If it doesn't see where you can save decrease your expenses.
Track and Lower Your Expenses
Our Club Ignite is exclusively for teens and can help you track your expenses because you'll receive a Club Ignite card. Not only can you make deposits at the ATM, but when you swipe your debit card, you can track your spending. It's a great way to manage your money. And if you notice your balance getting low, it means you're spending too much and time to save more money.
Establish a Credit History
Your parents can help you establish a credit history before you go out on your own, which is better than dropping you off at college, handing you a credit card, which essentially says, "Good luck. Go be responsible." Ask your parents to add you as an authorized user on a credit card. They don't have to give you access to it. However, adding you to the account opens a credit file in your name. Once this happens, you'll want to check and understand what makes up a credit score.
Think Carefully about College
With student loan debt on the rise, you may want to delay college or opt for community college since the tuition costs less than a four-year university. If you know that you want to go to college, open a College Savings Account so that you can save money for school. You can also apply for grants and scholarships and inquire about paid internships.
Take Advantage of Your Student ID
Did you know that your student ID could help you get up to 10 percent off at retailers such as Levis, Apple, and other retailers? Think about how much you can save because of discounted prices. Keep in mind that some businesses may not promote student discounts, but all you have to do is ask!
Get a Summer Job or Start an Online Business
You could get a summer job or ask your parents to help you start an online business. For example, if you like to bake cupcakes and other sweet treats, you could open an online bakery business. Ask your friends and siblings to help you with making deliveries. Or maybe you could be a camp counselor or tutor summer school students. Think about what you love to do, a hobby perhaps, and get help turning it into a business.
How Much Should a Teenager Save?
You may ask yourself, "What should I save up for as a teenager?" If you want a big-ticket item such as an iPhone or something else, you'll need to cover the initial cost and any other expenses. Only you know if something is worth it or not.
Being a smart money manager means that you can delay instant gratification so that you can build your savings. It may not be easy, but when your bank account grows and grows, you may have enough funds to pay for something really special and still have money left over.
We hope you enjoyed these financial tips for teens. Share them with your friends and family. After all, sharing is caring!
P.S. Sign up here to receive helpful information each month right in your inbox.
Posted In: Ignite, Saving, Tips For Managing Finances