In a Cash Crunch Due to the Coronavirus? Use These Tips! (#3 May Surprise You)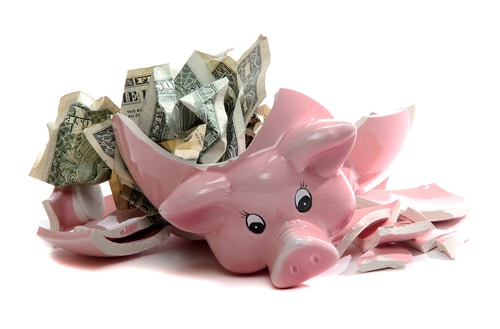 As COVID-19 continues to spread in the U.S., many are starting to feel in a cash crunch. Businesses, schools, and other institutions are canceling events, closing offices, or allowing employees to work remotely to protect the health and safety of others.
It's crucial now more than ever to stay as financially healthy as possible due to an interruption or loss of income.
How to Reduce the Effects of the Coronavirus Cash Crunch
Because of the Coronavirus, you may now be dealing with a personal financial crisis. Don't stress yourself out as it may lead to unwanted health issues. Use our tips to minimize the effects of COVID-19.
Review Your Budget and Prioritize Your Expenses
You'll want to review your budget so that you know where you stand financially. If you don't have a budget, create one. Include your monthly income sources along with assets such as an emergency savings account. You'll also want to include your living expenses. Eliminate the ones you can live without and decrease "essentials" as much as you can.
You may consider planning your meals for the week and buy what you need. Plus, see how you may reduce your utility bills.
Also, find out if you can lower your interest rates so that you can reduce your monthly payments.
If you're stressed about the cash crunch that COVID-19 may have caused, consider contacting a credit counselor. They can speak to you about debt management plans and other financial solutions.
Reviewing your budget and prioritizing your expenses allows you the opportunity to open and build emergency savings.
Speak to Your Employer about Your Options
If you're working on-site, ask your employer about and propose working remotely.
Do you have personal time, paid sick time, or vacation time?
Consider using these benefits so that your income won't be interrupted if you can't physically go to work.
If you don't have any of these benefits, consider the following:
Ask about emergency leave policies.
Find out if your company offers short-term disability insurance.
Inquire about Employee Assistance Programs (EAPs) or other benefits.
The Center for Disease Control and Prevention (CDC) and government organizations have provided businesses and employers with guidance around flexible sick leave policies. Political leaders have been urging companies to provide employees with paid leave or emergency leave. At least those who can't afford to miss a paycheck would have some relief. Speak with your human resources administrator about how you may be compensated for sick or emergency leave.
Consider Getting a Personal Loan
If you're faced with income insecurity, you may want to consider applying for a personal loan. These loan amounts and terms can vary widely, depending on your needs and ability to repay the loan.
Another option is to consider a home equity line of credit. This means you would borrow against the value of the home you own. Keep in mind that any personal loan approval is tied to multiple factors, including credit history, employment, and other qualifications. While it's worth looking into, it is not always a guarantee.
Contact Your Creditors
You may be thinking about how to not stress about spending money. Contact your creditor immediately about your credit card bills, student loan debt, or utilities.
According to the National Consumer Law Center, you may consider putting your payments into forbearance (last resort) or making interest-only payments.
Many utility companies offer energy bill assistance programs that may allow you to defer payments until a later date.
And because of your cash crunch, you may have to write and send out temporary hardship letters. Click here for an example and tweak the message for your situation.
Whatever you do, do not ignore your bills because you can find solutions for the financial crisis you may be facing.
Utilize Community and Government Assistance Programs
The U.S. government is working to implement policies to help Americans during the COVID-19 crisis. But the state of Ohio and your city may also be able to help you too.
For instance, food banks are one resource in which many people use (if you're able to pay for groceries, consider donating to one). Other organizations may help with utility bills.
Places of worship will be supporting members and the community as well. Search for community groups on Facebook. Your local government may also provide information about groups and organizations offering help.
Avoid Cash Advances
If possible, avoid taking cash advances on your credit cards or getting a payday loan because these may cost you more money than you thought possible.
According to the Consumer Financial Protection Bureau, the national average for a payday loan is almost 400%. With a high-interest credit card, you may pay significantly less interest (between 12% and 30%).
Keep in mind that a payday loan is structured to be paid off in one lump sum and within two to four weeks from their origination date. Furthermore, you may be hit with fees and penalties if you can't repay it.
If you have no other option than to take a cash advance, you're better off accruing some credit card debt than using a payday loan.
Always Be Prepared for Financial Emergencies
Whether we like it or not, finances affect our health. If you're having a personal financial crisis because of COVID-19, do your best to remain calm. Contact your creditors. Ask your employer about your options. Learn about the local assistance programs in your area and stay tuned to the latest news from the U.S. government.
If you need extra support due to an unexpected cash crunch because of a layoff or job loss, contact a financial counselor. They can help you figure out a plan that will work for you.
The sooner you deal with serious financial problems, the faster you can take steps toward recovering for a healthier financial future.
If you enjoyed this post, please consider sharing it with others. Also, sign up to receive the latest updates.
Posted In: Tips For Managing Finances