Why it's Critical to get a Home Mortgage Pre-approval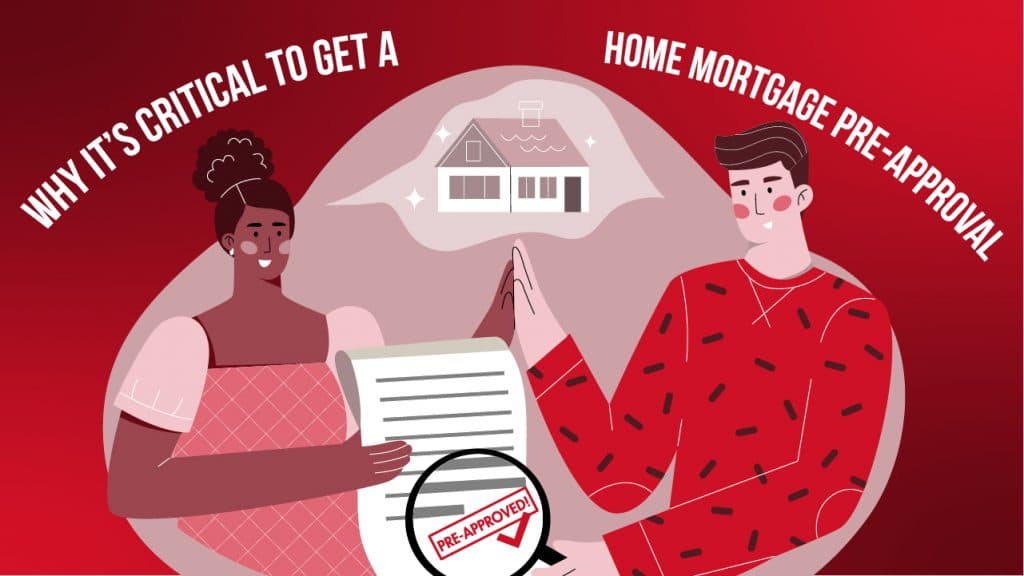 Homes are selling fast in today's market thanks to the rising demand. So, it's crucial to have a competitive edge compared to other buyers. One way to stand out: get preapproved. If you are on the hunt for your dream home, here are four reasons it's vital to get a home mortgage pre-approval before you start your housing journey.
What Do You Need for a Pre-approval Letter? 
To qualify for a home mortgage pre-approval, you and your co-borrower or co-signor (if you have one) will need the following documentation:
Social security numbers
Current address
Employment details (address, salary, pay stubs, W-2 forms, etc.)
Taxes
Bank and investment account information
Additional income sources
If you're self-employed, you'll need to provide the last two years' tax returns and other additional information such as the demand of your business, where you are located, and the stability of your income.
A Home Mortgage Pre-Approval Lets You Rise Above the Competition
Despite housing prices rising nationwide, housing inventory is lackluster. A bidding war could likely include two buyers or more. With a home mortgage pre-approval letter, you are telling a seller that you are prepared and serious about purchasing. If two buyers are in a bidding war, but only one has a pre-approved letter, the seller is more likely to choose the pre-approved buyer. It's critical to get pre-approved before scouting the housing market!
A Pre-approval Letter Helps You Find your Limit on Affordability 
While getting a home mortgage pre-approval helps the seller know that you are serious about purchasing a home, it also helps you, as a buyer, become more educated about your finances and credit history.  If you've had financial troubles in the past, your credit history may reflect that. It makes pre-approval trickier, so it's best addressing that hurdle early in the home-buying process.
Along with checking your credit, getting a home mortgage pre-approval gives you the opportunity to figure out a monthly mortgage payment that you are comfortable with. Looking at your monthly income, you can calculate a DTI (debt-to-income) ratio. Simply add all your monthly debt (plus rent, if applicable) and divide it by your gross monthly income. This lets you figure out what monthly payment you are comfortable with and find an exact budget for a home. Usually, 43 to 45 percent is generally the maximum debt to income ratio that qualifies for approval.
You Can Fast Track The Buying Process 
With a pre-approval letter, you can cut the line and immediately start looking for your dream home. When you finally make an offer, you'll have all your finances in line, and it'll provide a smoother buying experience.
You Can Lock in a Low Interest Rate
Mortgage loan rates are estimated to begin rising again in the coming months. Many experts see rates following an upward trend as we head into the new year. If you are searching for a home, getting a home mortgage pre-approval now may allow you to lock in a low interest rate which you may not get if you wait until a later date.
Lenders are Busy in this Housing Market    
Since lenders are busier than ever, it takes longer to get pre-approved due to the increased demand in the housing market. Give yourself ample time to work through the pre-approval process so that you are not waiting with bated breath for the pre-approval letter and potentially missing out on bidding on your dream home. However, keep in mind that pre-approval  letters are usually only valid for 90 days.
Are You Ready to Buy a Home? 
If you are unsure if your finances are ready for a mortgage, it may help to have an account review.
At FFCCU, through our Dare2Compare account review, you can work with a helpful teammate to better understand your finances and where you can save money on interest and finance charges. Take an active role in managing your finances and reducing unnecessary debt and you'll be better prepared to take on a mortgage. And if you're not ready yet, you can learn what steps to take to get you there!
Get a Home Loan!  
When you are ready to purchase a home, contact us about a mortgage loan. We'll walk you through every step and answer any questions you may have. Additionally, our teammates will work to find you the best rate on your mortgage and the best loan option for you.
Posted In: FFCCU Services, Mortgage