Tax Refund: Top 3 Ways to Use Your Money Wisely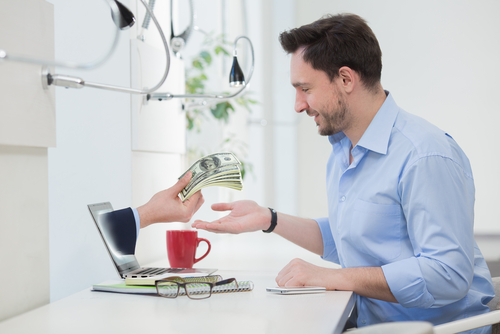 So you're thinking about using your tax refund to book that spectacular 14-night Alaskan cruise you've always wanted to take.
Or perhaps you want to use the money to buy that awesome entertainment system you've had your eye on for months so that you can watch Netflix in style. Errr! Whoa! Slow down.
Before you start spending, consider the opportunities to make your newfound income do some heavy (financial) lifting for you. Keep reading.
Tax Refund: Don't Spend Your Money All at Once
Getting a tax refund can bring a smile to your face on a cold and blustery winter's day. However, you may want to think about how you could use the money. After all, if your refund is more than what you expected, you don't want it to be gone within a few days. Take a breath and consider your options.
How to Use Your Money Wisely
There are many things to consider regarding your federal and state tax refunds. The truth is you want to get smart with your refund. Here's how.
"Paying off high-interest debt and/or replenishing your emergency fund is a great way to utilize your tax refund this year. Paying down the principle means less interest and either smaller payments or that your debt will be paid off earlier than planned. If you don't have any high-interest debts, look to replenish your emergency fund or invest for future goals. Use your tax refund wisely and make your money work for you." -Nichole Coyle, Certified Financial Planner
Save It
One of the best ways to handle your tax refund is to save it. Whether you have a savings account or want to open one, it's a good idea to hold onto your money. Even if you're going to use a portion for travel or holiday savings, you'll want to keep it safe before spending it on something you regret. There's nothing worse than having buyer's remorse. Hold onto your refund for a while because you never know what may happen. You may even consider opening a separate savings account for emergencies. Deposit your state and federal refunds and add to your rainy-day fund every month. Not only will you have peace of mind in case you need the money, but you'll also build up your funds.
Pay Down Debt
You may want to use all or a portion of your tax refund to pay down debt, which could improve your credit score. Lowering your debt will increase your total available credit. Plus, it may increase your chances of getting approved for a loan. If you're over your credit limits or close to them, using your tax refund to pay off high-interest credit card debt is a step is a great way to improve your overall financial health.
Invest It
If you've thought about dabbling in the stock market or perhaps investing in real estate or even a business, you may consider using all or some of your tax refund to do so. Investing your money can make it grow over time. And let's face it. You may have years until you retire, so the sooner you build your investments, the better. If you're unsure about where to invest, speak with a qualified, certified financial planner who can help you use your money wisely.
Splurge
You may be surprised about our third point. But it's a matter of context. You may want to splurge on a big-ticket item, which you can then resell later. Or perhaps you're selling your house. Putting in new flooring or carpet may help to increase the resale value. Splurging doesn't have to mean you buy something you really can't afford. But it does mean being strategic when it comes to spending money on something. Think long-term vs. short-term.
Save Your Federal and State Refunds & Build Your Nest Egg
You may be asking, "Where's my tax refund?" Take a deep breath and relax. You'll receive it. In the meantime, think about how you can use your money to your advantage. While you may want instant gratification, the feeling won't last, especially if what you bought depreciates, or worse, breaks! Use our ideas and start saving so that you can build and have a secure financial present and future. If you need help with financial planning, contact Nichole Coyle, CFP, and she'll help you get your financial house in order.
Did you like this post? Share it and sign up here to receive helpful information each month right in your inbox.
Posted In: Saving, Tips For Managing Finances