Recreational Vehicle Toys: Motorcycle, Boat, ATV or Personal Watercraft (Which One Do You Want?)-Part Two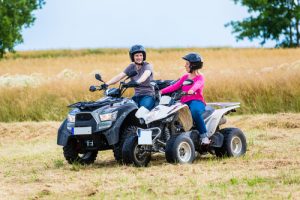 Welcome to Part Two of our recreational vehicle toys blog post.
Maybe you've dreamt of cruising around Lake Erie on a jet ski. Or perhaps you prefer to stay on land and imagine yourself riding an ATV (all-terrain vehicle). Whichever grown-up recreational vehicle toys you've had your eye on, it's a good idea to know something about them before buying one that's new or pre-owned.
What You Need to Know About the Top Recreational Vehicle Toys
ATV (All-Terrain Vehicles)
Out of all the recreational vehicle toys, all-terrain vehicles are one of the most popular. Why? Because driving around on a three – or four-wheeler is a lot of fun. Here's what to consider:
Style—If you need help on the farm, you probably want a utility task vehicle (UTV), which is essentially a tricked out golf cart. For family fun at an off-road vehicle park, you may want something with more power or even a performance-oriented UTV. If you're interested in racing, consider a lower-powered ATV, so you can get the hang of riding it.
Transmission—You may prefer an automatic transmission, especially if your kids are going to use the ATV. However, a semi-automatic (shift without a clutch) and manual transmissions are available.
Multiple Users—If many people (adults and kids) will use the all-terrain vehicle, make sure you buy one that provides the most efficiency.
Safety—Some smaller ATVs have a remote control engine shutoff. This is good news for parents because you're in control no matter how far away the all-terrain vehicle is. Another cool safety feature is a throttle limiter that keeps a rider from applying too much throttle. Parents, you can increase engine power and speed as kids become more skilled.
Maintenance—Storing your ATV throughout the winter means investing in a small charger to keep the voltage from draining from the battery. A fuel stabilizer ensures the quality of fuel and will maintain the performance. Clean the terminals, remove the battery, and cover your ATV. When it's time to go riding, change the oil and oil filter, grease the suspension joints, drive chains, sprockets, etc. If your ATV uses coolant, change it periodically because it will ensure it remains cool and protected.
Personal Watercraft
Jet Ski, WaveRunner, or Sea-Doo? No matter which personal watercraft you've had your eye on, consider the following before buying one.
Type—Stand-up PWCs are smaller, fit a single rider, require less maintenance, and are easy to transport. Sit downs are larger, provide room for more than a single rider, and can tow rafts or wakeboarders. Research models and read user reviews to ensure you buy the right personal watercraft for you.
Engine—Personal watercraft built with 2-stroke engines are becoming rare because they're environmentally friendly. Most PWCs have 4-stroke engines because they have less of an impact on the environment. Plus, finding parts for 2-stroke engines may be difficult.
Hours—Most PWCs perform well for an average of 300 hours. Below 50 hours is considered low usage, and above 150 is deemed high.
Other costs—In addition to paying the initial price of a PWC, you'll have additional expenses such as storage, transportation, insurance, maintenance, and accessories.
Are You Ready to Finance Your Fun?
After you've decided to buy an ATV or personal watercraft, consider getting a recreational vehicle loan to finance your fun. With great rates like ours, you'll discover that you have extra money to accessorize your recreational vehicle toy. That means you can get those snazzy decals or a kickback portable chair. Sound good? You bet it does!
Did you like this post? Share it and sign up here to receive helpful information each month right in your inbox.
P.S. Don't forget that we're giving you a 1% cash rebate (on applications made between May 1 and June 15, 2020), so if you buy the ATV, use the money for a cool helmet. Or if you buy a personal watercraft, get a neon life vest. It's your cash, so get whatever you'd like. Ask us about a rec vehicle loan today!