Recreational Vehicle Toys: Motorcycle, Boat, ATV or Personal Watercraft (Which One Do You Want?) – Part One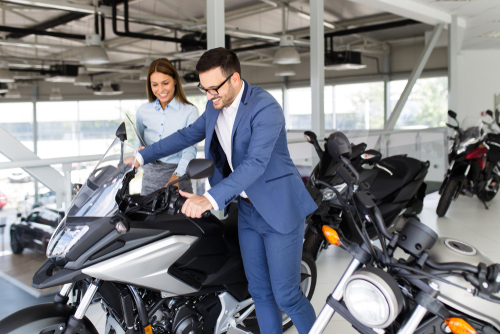 Vroom! Do you picture yourself cruising the open road on a motorcycle? Maybe you've dreamt of sailing around Lake Erie in a boat. Whichever grown-up recreational vehicle toys you've had your eye on, it's a good idea to know something about them before buying one that's new or pre-owned.
What You Need to Know About the Top Recreational Vehicle Toys
Motorcycle
If you've had your eye on a Harley Davidson, Yamaha, BMW, Honda, Kawasaki, or another brand, you'll want to keep the following in mind.
Type—A sportier bike will have a committed riding position and may hurt your back and wrists, while a bike with a more upright position may be the better option for you. Depending on how much you want to spend, a sportier bike may cost more, which includes insurance payments. Most riders chose their motorcycle because they felt a connection with the bike. Performance is important. However, the bike that gets your heart racing will most likely be the one for you.
Suspension—When you sit on a bike, press down on the front end to test the forks, which should return to their position immediately and somewhat silently. Loud noise may not be good news. Also, fork seals should be clean and smooth. You shouldn't see fork oil on the seals or the forks. Bounce up and down on the seat; you may look or feel funny doing this. The rear shocks should have some resistance and return to their normal position without springing up and down.
Brakes—As you sit on a bike, take it out of gear, roll it forward, and gently apply the brakes. The brake lever should be smooth when you squeeze and release it—you should come to a slow stop and hear little or no noise from the brakes. The brake calipers shouldn't drag. If they do, that's not a good sign, and they'll need work.
Tires—A brand new bike should have great looking tires. However, you'll still want to inspect them to ensure there are no marks and that the tread looks good. The same goes for a pre-owned bike. Ask how old the tires are and how many miles they have on them.
Fuel Tank—Bring a flashlight, open the cap, and inspect the fuel. It should be amber-colored, and you should see the metal interior of the fuel tank. Dark fuel means it's old and needs to be drained and replaced. On a pre-owned bike, look for rust, grit, or sediment. A fuel tank that has a coating applied to it to prevent or cover old rust will show a light milky surface.
Clutch—Test the clutch and release it slowly. Is it smooth? Hopefully, it is. Some slack is okay, but any excess will need to be adjusted. When the clutch is engaged, you shouldn't feel any "snags" or "pops."
Coolant—It's neon green and smells sweet. Brown coolant indicates either rust or oil has gone into the engine. Oil in the coolant means the head gasket leaked, or the O-rings failed. If these are present, you may want to buy another bike.
Oil—If a bike has a sight glass on the side, you can see the color of the oil. If not, insert a cloth, dipstick, or paper towel into the oil filler cap to see if it's clean. Dirty-looking oil requires changing. Oil with milky white streaks means that water got into the engine, and you would have to rip the engine apart. It's better to find another bike.
Start—Listen for unusual noises. If you don't hear any, check the bike's lighting system and make sure the headlight works properly (low and high beam). Check the turn signals, brake light, and hazard lights. Inspect all gauges.
Boat
Before you buy a SeaRay, Boston Whaler, or Chapparal boat, you may want to consider the following.
Motor or Sail—It comes down to the type of activities you want to do. For instance, a sailboat is great for cruising or quiet fishing. On the other hand, if you're family and friends are active and like to waterski, a powerboat or pontoon boat may be the better option.
Size—A boat between 18 and 40 ft. with the basic amenities should keep you comfortable. If you're considering day and night trips, you may want a galley, cabin, and other things to accommodate you and your guests. But a larger boat comes with a more significant price tag. Keep in mind that you'll have additional costs such as maintenance, gas, dry-docking, mooring, cleaning, etc.
Legal—Boaters in Ohio who were born after January 1, 1982, and who operate a boat larger than ten horsepower, have to complete a NASBLA-approved boating course or exam. Other legalities include safety equipment, registration and title, and more.
Insurance—Your boat has to be insured, so find an agent who specializes in marine boat insurance because they'll have relationships with specific companies and help you compare and get the best rate. And, some insurance agencies may offer discounts based on the type of boat you buy. You may even receive a break if you're a "first-time buyer."
Storage—You may dock your boat at a marina or put a trailer on it and store it somewhere else. Plus, you may have to pay more store it during the winter months or if you don't use it for a while. And depending on the size, you may have to hire professionals to move and store your boat.
Resale Value—Even though you're buying a boat, you may want to think about the resale value. Keep your boat at least three years to get your money's worth. The brand and model will impact your sale price, so choose carefully.
Are You Ready to Finance Your Fun?
There are many recreational vehicle toys on the market. The question is: which one do you want to buy? After you've decided on a motorcycle or boat, consider getting a recreational vehicle loan to finance your fun. With great rates like ours, you may be surprised to discover that you have extra money to accessorize your recreational vehicle toy. That means you can get that motorcycle riding jacket and matching gloves or a captain's hat.
Stay tuned for Part Two of our recreational vehicle toys blog post!
Did you like this post? Share it and sign up here to receive helpful information each month right in your inbox.
P.S. Don't forget that we're giving you a 1% cash rebate (on applications made between May 1 and June 15, 2020), so if you buy the boat, use the money for that Yeti cooler. Or if you buy a motorcycle, get a leather riding jacket and gloves. It's your cash, so get whatever you'd like. Ask us about a rec vehicle loan today!
Posted In: FFCCU Services, Lending, Tips For Managing Finances