Money Management: Your Guide to Getting a Fresh Start in the New Year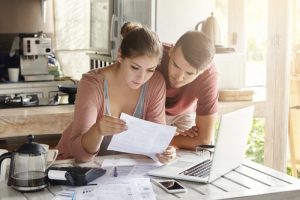 Ah, the new year: time to toss that stale fruitcake and begin anew on that resolution to lose 20 pounds. It's also the perfect time to review your personal finances and money management goals. We're here to help you reach those goals, whether they are to spend less, create an emergency savings fund, or something else. With the following helpful tips, this will be one resolution that's easy to keep, even if all the others have been broken before the first snowfall of the year.
Before the months fly by, you may want to revise your money management. After all, it's never too late to adopt good financial habits, especially if you'll buy a new home in the new year. Boosting your credit score could help you get your dream home!
Read on to learn the top money management tips that can help you to save more during the new year.
Improve Your Finances with These 10 Money Management Tips
If your personal finances aren't in the best of shape, don't panic. Use our money management tips to strengthen them now and throughout the year. Your finances will be in tip-top shape before you know it!
Get a Clear Picture of Personal Finances
Look at your personal finances right now! Review your credit card balances, mortgage or rent, budgets, investments, car payment, and more and see where you can make improvements. For example, perhaps you could refinance your auto loan. Or maybe you could transfer a credit card balance. Any changes you make now can pay off throughout the new year.
Save More Money
One way to save more money is to split your paycheck into different savings accounts. You could also open specific accounts such as a Holiday Club and Travel Club so that you can save for the holidays and the trip you've always wanted to take. Plus, our Dare 2 Compare account review can show you how much money you can save. It only takes five minutes, and one of our friendly teammates will get in touch with you to schedule a face-to-face meeting.
Learn Your Credit Score & Improve It
Do you know your credit score? If not, the new year is a great time to learn it. Credit scores range from 300 to 850. Those with a credit score between 720 and 850 usually get the lowest interest rates or best credit cards. No matter what your credit score number, you can improve it today by paying off debt, paying more than the minimum balance, consolidating credit cards, and more.
Review Your Expenses
When's the last time you checked your expenses? From a money management perspective, you want to keep these to a minimum. Why? Because the less you spend, the more you'll have in your savings account, which will come in handy for when you want to buy a home. To determine what to cut, consider if you need that fancy cup of coffee every day, all those cable stations, etc. Once you increase your savings, you can slowly add things back.
Pay Down Debt
Your debt-to-income ratio is basically your monthly debt payments divided by gross monthly income. This is one way a lender measures how you manage your payments to repay money you have borrowed. Pay off as much debt to improve your debt-to-income ratio number.
Diversify Your Assets
How many assets do you have? For instance, you may have income property, stocks, cash, antiques, valuable paintings, and other investments. Or perhaps you only one of those. Consider diversifying your assets so that you don't "put all of your eggs in one basket" as the saying goes. Having multiple assets that result in additional income now or in the future is a good thing.
Evaluate Your Financial Priorities
One of the best things you can to improve your finances is to evaluate your financial priorities. For instance, you may decide not to take a big vacation this year, and instead, go away for the weekend. Or maybe you can give up that daily fancy cup of coffee. If you want to buy a home, it's a good idea to see where you can cut costs and put the money toward something else, like a new home.
Ensure You Have an Emergency Fund
Good money management includes having an emergency fund with at least six months of living expenses. Of course, the more you have the better. You can keep your emergency savings in a savings account or money market fund. If you don't have an emergency fund, start one today!
Review Your Retirement Plan
Be honest. How much do you have saved for retirement? No matter if you have a little, a lot, or even haven't thought about saving, now is the time to consider how much you'll need for retirement. Even if you save one hundred dollars per day, it will add up over time. It's a good idea to speak with a financial advisor who can help you plan for your retirement.
Go Through Your Unused Gift Cards
Gather your unused gift cards and vouchers, and then decide how you can maximize their value. Use the ones at your favorite places to eat or shop and sell the gift cards you don't want online. Look for auction sites and gift card trading websites. Put the money in your retirement account, emergency or home fund, or another account.
Take Control of Your  Finances in the New Year
There's no time like the new year to reevaluate your money management habits so that you can improve your personal finances during the year, and of course, for years to come. If you need help with your financial planning, remember you can schedule an appointment with one of our friendly FFCCU teammates to see how they can save your money.
Take our Dare 2 Compare challenge and transform your money management habits today!
Did you like this post? Share it and sign up here to receive helpful information each month right in your inbox.
Posted In: Dare2Compare, Saving, Tips For Managing Finances