7 First-Time Home Buyer Tips You Need to Know for a Smooth Process (Infographic)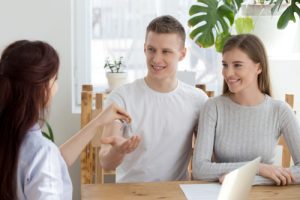 Congratulations! You've decided to buy a home. But before you cash out your 401(k), sell your stock, or even start looking at homes. There are things a first-time home buyer must know. And let's face it. Getting into the nitty-gritty of home-buying isn't the glamorous part of looking for your new home. However, the more you know, the better prepared you will be.
Keep reading to learn what you need to know about buying your first home and download our handy infographic, too!
7 First-Time Home Buyer Tips
Use the tips below to avoid making mistakes during the home-buying process. After all, you're about to make a big purchase and it's important to know what to expect.
Consider Where You Want to Live & Style of Home
Have you considered where you want to live? Check out different areas at different times of the day, i.e., morning, afternoon, and night. Plus, ask your co-workers how they like their neighborhoods and if there are any homes for sale. You'll also want to consider a home's style. Do you like brick homes? Want a two-story? How many bathrooms and bedrooms should your new home have? Create a list of what you want because it will help you when research homes.
Research Homes Online and In-Person
Speaking of research. You can easily check out homes online thanks to Zillow, Homefinder, and other sites. The great thing about looking for homes online is that you can narrow down your search with a click of a button. Of course, you'll also want to attend open houses because, thanks to photo touching software, some homes may look better online than in person.
Be Realistic About How Much Home You Can Afford
You must be comfortable with the amount you spend on your monthly mortgage payment, so consider how much home you can afford. If you're currently renting an apartment, you may want to use your rent as a guideline. Or you can always consider you and your partner's salary. Whatever you do, be honest with yourself about the amount of money you want to spend on your new home.
Think about Your Down Payment Amount & PMI
Realtors often tell people that putting a 20% down payment on a home is best because it can reduce the cost of your mortgage and help you avoid paying private mortgage insurance (PMI). However, the norm is 3% to 5%, with some people putting down 10%. If a home has multiple offers, you may consider a 20% down payment or even making a higher offer.
Understand the Different Loan Options
First-time home buyers' loans vary.
If you have good credit, a steady income, and can afford a down payment, you may consider a conventional mortgage loan. It offers you lower closing costs and a variety of terms from 10, 15, 20, even 30-year fixed rates.
Government-backed loans provide more flexible credit guidelines and offer attractive rates. These include the following mortgage loans:
FHA: These loans are insured by the government and are for first-time home buyers with low credit scores and smaller down payments. They have easier credit qualifying guidelines, as well as relatively low closing costs and down payment requirements. However, these home loans also include mortgage insurance. You'll pay an upfront premium and annual premiums that will drive up your overall borrowing costs.
VA: Financing is available to active-duty military, veterans, and their spouses to help purchase properties with no down payment or minimum credit score, lower interest rates than some other mortgage loans, and no private mortgage insurance (PMI). VA loans have a funding fee that may be rolled into your loan costs. Some service members may be exempt from paying the fee.
USDA: A loan for rural families and individuals with low and moderate-income, assisting in qualifying the borrower for mortgages even without a down payment. To qualify for a USDA mortgage loan, you may need a credit score of 640 or higher. If your score is lower, you'll want to show documentation regarding your payment history to improve your chances of getting a USDA loan.
Don't Wait to Get Pre-Approved
If you want to move to an area that's experiencing growth or revitalization, chances are you may have some competition for your dream home. Getting a pre-approval letter shows sellers and real estate agents that you're serious about buying a home. The pre-qualification process will help you spot potential credit issues so that you can correct them (pay off debt, consolidate credit cards, etc.) before you shop for your new home.
Choose the Best Real Estate Agent for You
When looking for a real estate agent, keep in mind that the real estate agent listed on a "For Sale" sign represents the seller, and they'll want to get their client the most money and earn a full commission. Your real estate agent will represent you, the buyer, and will understand what you're looking for and how much you want to spend. They'll negotiate the price of a home with the seller's agent. Ask family, friends, and co-workers for referrals or contact a real estate office.
Are You Ready to Move into Your Home?
Buying your first home is both exciting and stressful at the same time. On the one hand, you can't wait until you move out of your apartment and into your first home. But on the other, it's a significant purchase which comes with a lot of paperwork and responsibility. Use our first-time home buyer tips before you start shopping for your home.
To put your mind at easy, download our first-time home buyer infographic. You can print or save it to your desktop, phone, or tablet. The more you know about buying a home, the better you'll feel when you speak to a lending officer about getting a mortgage.
Did you like this post? Share it and sign up here to receive helpful information each month right in your inbox.
Posted In: Home Buying, Mortgage