Erika Lauren Shares Her FFCCU Story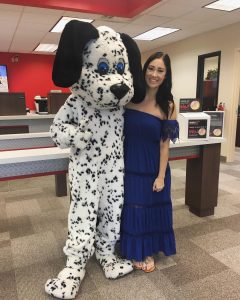 Hey, y'all! It's your radio pal Erika Lauren!
I wanted to share with you my experience at Firefighter's Community Credit Union! They have truly helped me get back on track with my finances, and I am forever grateful that I decided to become a member! Here is my story…
As you may know, I moved to Cleveland about 8 years ago from Chicago and quickly started my career in radio. I moved here with pretty much zero financial knowledge; I hadn't even used a credit card yet! I made mistakes that many twenty-somethings make early on and put myself in credit card debt. Some of it was out of necessity, but mostly it was unnecessary spending. I was young and naïve, and I definitely lacked any kind of financial responsibility!
My husband and I had to pay for our own wedding, we bought a home, and we had new expenses. I started to feel very overwhelmed at all of the credit card bills rolling in. I think at one time, I had over 7 credit cards and was receiving a monthly bill for all of them.  As you can imagine, it was very hard to keep track of all those due dates, so naturally, I missed a few payments and my credit suffered. I look back at these mistakes now, and I really wonder what I was thinking, but I'm human.
I decided it was officially time to take action to become financially healthy again, so I stopped into my nearest FFCCU branch and became a member.
What I liked about FFCCU is it's real people in our community helping each other. When I deposit money into my account, it goes right back to community funding loans for new local businesses and personal loans for those in need in my area!
I met with Randa from the FFCCU Emerald Parkway Branch, and instantly I knew I was in the right place. She offered to take a look at all of my financials to see if there were any areas FFCCU could help me out with or improve upon. She immediately recommended I tackle my credit card debt and transfer my balances from multiple cards on their low APR Great Rate Visa card! That way, I'd have one bill to pay and since the first 12 months offered a super low-interest rate, I could chip away at the debt aggressively in the first year without dealing with a ton of interest!
This is the best thing I have ever done for my financial well-being! With the easy to use FFCCU app, I set up auto payments for my great rate card, and I can see my balance going down each month! In a couple of years, I will have this debt paid off and my credit score will have improved significantly, all because of one simple recommendation from Randa at FFCCU!
The next step for my husband and me is to sell our home within the next year or two and find our dream home!  The very first thing I will do is stop by Firefighters Community Credit Union to check out their home loan rates.  I know that they will guide me in making the best decision for my family. The personal attention you get at FFCCU is unparalleled, and I am truly grateful for the financial guidance they've given me and my husband! Thank you FFCCU! You've got a member for life!
-Erika Lauren
---
We can help you too!
Sign up for an Account Review with one of our Financial Service Representatives, and you'll get a one-on-one review of your finances. We'll look at debts, rates on loans, student loan debt, anything and everything in your financial universe! We've helped a lot of people save money in the long term and the short term, while still being able to lower monthly payments. We do it all the time! Give us a call today at 216.621.4644 or visit our website to learn more!
Posted In: FFCCU News and Info, FFCCU Services, Tips For Managing Finances