6 Things You May Not Know about Certificates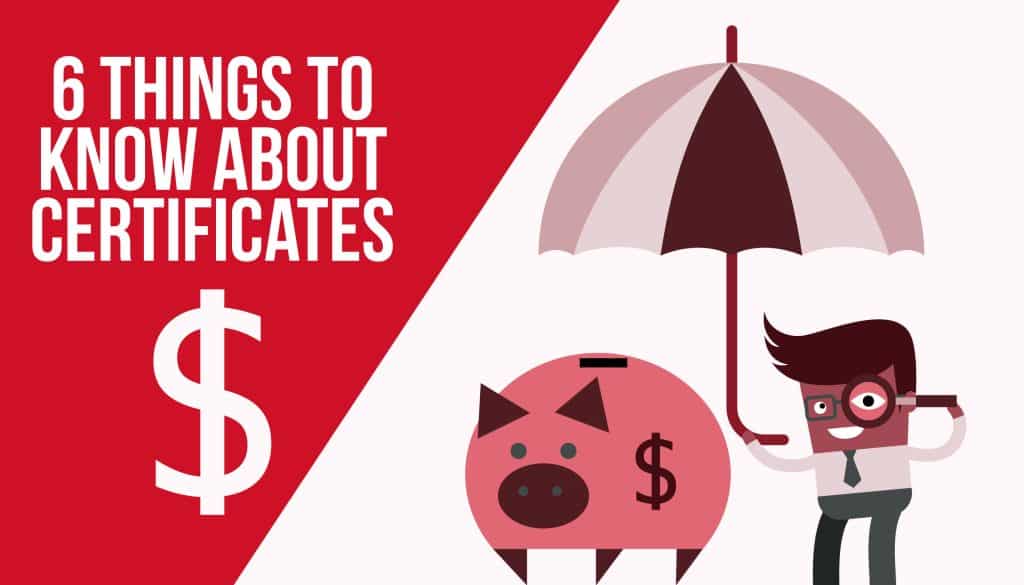 You may have heard of a CD, certificate of deposit, or share certificate – it's called many things, but no matter the name, a certificate is a great tool to have in your financial toolkit. But what are certificates anyway? And how do they work?
1. What is a Certificate?
A certificate is a type of savings account that can hold a fixed amount of money for a chosen period of time. Just think of it as an account where the financial institution pays you interest in exchange for the guarantee that you won't withdraw your cash until a  specific amount of time has passed, such as three months, five years, or nearly any term in between.
A certificate offers the benefit of a higher interest rate on your deposits compared to a regular savings account, and it works for saving for short-medium term goals. Just think of it as a large chunk of money that stays at your financial institution for a set period that earns a higher APY.*
Still unsure if a certificate could work for you? Here are six reasons to consider saving with a certificate.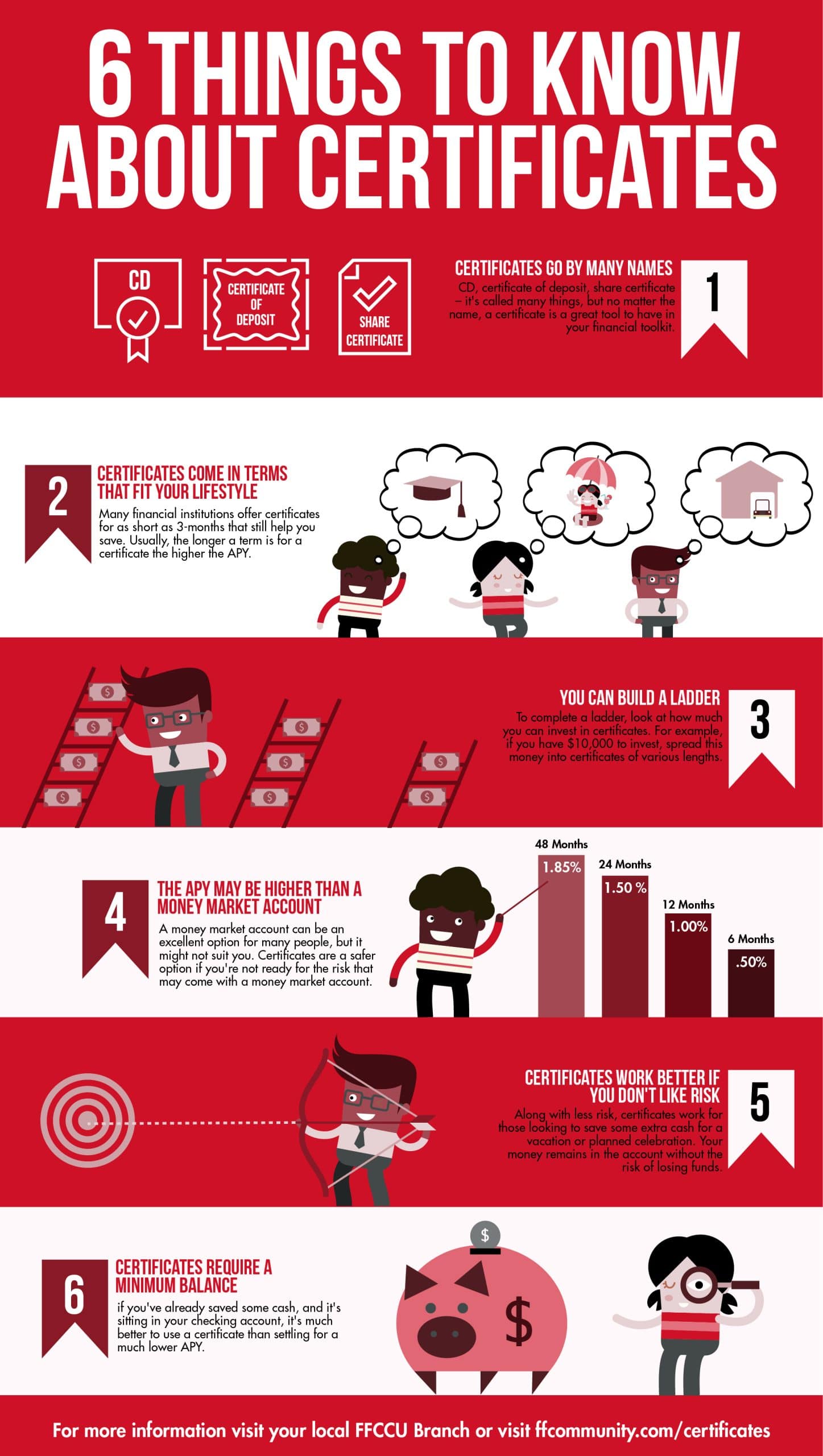 2. Certificates Come in Terms that Fit Your Lifestyle
Sometimes when people think of certificates of deposit, they believe their money will be tied up for a very long time. In reality, many financial institutions offer certificates for as short as 3-months. Usually, the longer a term is for a certificate, the higher the APY. You could also open a 3-month certificate and move it to a longer-term later if you find you don't need that money available immediately.
Certificates can be great tools to help you with a savings goal because there is a penalty to remove your money early. This often makes spending it less tempting.
3. You Can Build a Ladder 
Many people don't know they can use certificates to their advantage by creating a "ladder." To complete a ladder, look at how much you can invest in certificates. For example, if you have $10,000 to invest, you may put 25% in a 60-month certificate, another 25% in a 36-month certificate, and so on.  Once each certificate matures, you reinvest this money into additional certificates of various lengths, depending on the interest rates in the market at that time.
Suppose the available APY for certificates decreases substantially. In that case, you can take some of the money once the term is up and place it into a savings account, Roth IRA, or any other place of your choosing. You can reinvest that money in a certificate later when rates have risen again.
A certificate ladder is a strategy for saving that allows you to earn significant interest without tying up a large sum of money indefinitely. It gives you more flexibility with your certificates by allowing access to some of your investment money sooner with your shorter-term certificates.
Additionally, if you're worried about APY fluctuating too much, a ladder can be a great strategy to allow you to take advantage of higher APY rates with your longer certificates. At the same time, you can reinvest your shorter-term certificates if the APY increases or remove the funds if the APY decreases. It's also safer than other saving strategies because the financial institution insures your certificates.
4. The APY may be higher than a Money Market Account 
A money market account is a tried-and-true savings tool for many people, but it might not suit you.
Some benefits of a money market account include the flexibility to withdraw funds tied to the account. These accounts also typically offer a higher interest rate than a regular savings account. This is a great option to keep a large chunk of money because it is insured under the NCUA or ASI at credit unions.
However, money market accounts may also require monthly maintenance fees and a large minimum balance, while a certificate does not. The APY in these accounts can change while your money is on deposit, while a certificate cannot change for the term of the certificate. Investing in a certificate this year may be more beneficial than a money market account because, as of June 2022, the national average APY for a money market account is 0.08%. Conversely, At FFCCU, you can earn 0.40% APY* on just a 3-month certificate.
5. Certificates Work Better if You Don't Like Risk
As you near retirement age, it's prudent to reduce the risk you take with financial products. A certificate may work better for you if you'd still like to make some extra cash passively but cannot wait long enough for fluctuations in the market to level out.
Along with less risk, certificates work for those looking to save some extra cash for a vacation or a planned celebration. If you time it up correctly, you can park your money in the account for a set duration, and once the term is up, take that money and use it (plus the interest!) to pay for your vacation or event.
6. Certificates Require a Minimum Balance 
While they aren't typically high, remember that most certificates require a minimum balance. This could be positive because the larger your deposit, the more APY you'll earn. Plus, it's an easy way to save money without thinking about depositing monthly into an account.
So, if you've already saved some cash and it's sitting in your checking account, it could be better to use a certificate than settle for a much lower APY. At FFCCU, the minimum balance for a certificate is $500.
Start Saving Today!
Certificates are a clever way to save! If you're ready to start saving smarter, check out our certificate rates! We offer terms from 3 months to 60 months that earn up to 2.00% APY! * Just visit us here or call 216.621.4644 to learn more!
*APY=annual percentage yield.  $500 minimum balance required, visit ffcommunity.com for full terms and conditions. 
Posted In: Saving