Tips For Winning College Scholarships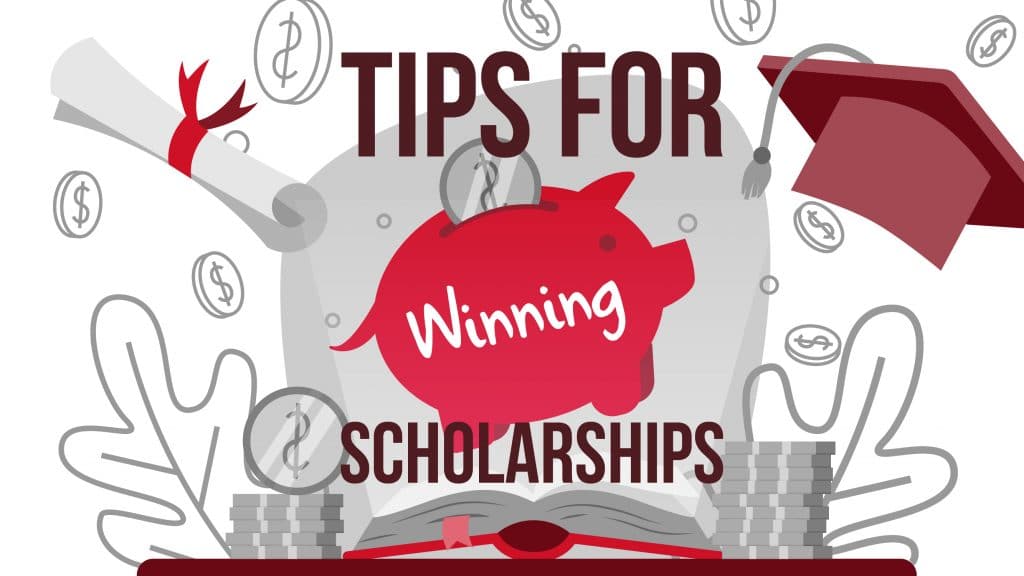 According to the Education Data Initiative, the average cost of a college education is more than $35,000 per student per year. If you do the math, a four-degree can be upwards of $140,000.
That's a lot of money. 
The good news is scholarships can make your education a lot more affordable. Scholarships are monetary awards given to students based on specified criteria. Unlike loans, you do not have to repay scholarships.
Most colleges, universities, and even trade schools have scholarship packages students may be eligible for upon acceptance. The amount awarded is typically based on merit, such as high school grade point average, extracurricular activities, or standardized test scores. 
But if your institution didn't offer you any scholarships or you're looking to reduce your expenses even further, you'll be glad to know that thousands of other awards are available. If you're particularly aggressive, you can use scholarships to substantially cut the overall cost of your education. 
Are you interested in winning college scholarships? Here are a few tips to help you get the most money possible. 
Start Early!
Don't wait until your senior year to start applying. By beginning your search your junior or even your sophomore year, you will give yourself the time you need to research the best awards for you, understand the application requirements for each, and prepare your applications properly. 
Also, many scholarships have limited funds and are more likely to award them to those who apply early. And if you miss a deadline, even by just one day, you may not be considered at all.
Where To Look
To find available scholarships, the best place to start is online. There are a number of sites that list scholarships that would be a good match. These include:
You can also use a personalized scholarship search tool like our Scholarship Match or the Scholarship Search tool available through Money College Planner.
In addition, you may want to explore scholarships in your area. There are usually quite a few offered through local foundations, community organizations, and local businesses. FFCCU, for example, awards three annual Ignite My Future scholarships, each valued at $500. 
Ask your high school counselor for information on scholarships or reach out to the organizations directly to see what might be available. You'll be surprised at what you'll find!
Develop a strategy
Scholarships amounts vary widely. To achieve your financial objectives, you may want to apply for a few significant scholarships, or you may opt to apply for more scholarships that offer smaller amounts. 
Applying for large scholarships may seem like the easiest and most effective option. And if you win, it is. However, winning college scholarships with high award amounts can be much more difficult than winning awards for small amounts because they are that much more competitive. On the flip side, smaller scholarships usually have fewer applicants. So, don't overlook them. Those $500 to $1,000 awards can add up quickly.
Large or small, you should also check to see if the scholarships you are applying for have any additional submission requirements, like an essay or a video. Many students avoid these scholarships because of the extra work, and as a result, the applicant pool is much smaller. In fact, scholarships with essays over 1,000 words often have fewer than 500 applicants, compared to others, which can have 5,000 applicants or more. 
Embrace the essay
Because so many students shy away from scholarships that require essays, it may benefit you to try winning college scholarships that specifically require an essay. 
A well-written essay is one of the best ways to help you stand out in the crowd. If you're a good writer, all the more reason to pursue this option. But even if you don't have strong writing skills, consider working with your advisor to help enhance your submission. 
Here are some tips on writing a stand-out essay:
· Understand the prompt and address it specifically.
· Get as close to the word limit as possible but don't go over. Exceeding the word limit may disqualify you.
· Proofread. Spelling and grammar mistakes may disqualify you.
Get letters of recommendation
Some scholarship applications require letters of recommendation. If yours do, think carefully about who can best speak to your strengths. Employers, teachers, coaches, high school counselors are all good places to start. So, choose wisely and be sure to give them enough time and enough information to write a letter that sets you apart. Asking at the last minute can result in a rushed letter that doesn't do your accomplishments justice.
Make yourself shine.
Your scholarship application is also an opportunity for you to speak for yourself. In fact, this is one of the few times in your life when it's ok – even necessary — to brag. 
Highlight the recognition and awards you've received. Point out activities that show your talents and passions. Talk about instances where you took the initiative to lead and persist through adversity. 
And don't forget about your extracurricular activities, like volunteering. Show that you are a person who likes to get involved.
Good luck!
Applying can be a bit of work, but winning college scholarships can have a tremendous payoff. We encourage you to formulate a plan, start the application process early, and be thorough in your submissions. 
We also encourage you to apply for FFCCU's Ignite My Future scholarship, which is available now through January 31, 2022. If you're a Club Ignite member with a passion for serving the community, you could walk away with $500 for your college education! And if you're not a member, become one today, and you can be eligible! At FFCCU, we support our next generation of learners and leaders.
Posted In: FFCCU Services, Ignite