Ignite My Future Scholarship
Supporting Students
Are you a Club Ignite member with a passion for supporting the community? You may be eligible for the Ignite My Future Scholarship, available exclusively for Club Ignite members. Each year, FFCCU will award three (3) $500 scholarships to deserving high-school students.

---

---

Who You Are
A student in grades 9-12
A member of Club Ignite (not a member? Join today!)
What You'll Need
A cumulative high school grade point average of 3.0 or above
Demonstrated community involvement through volunteer activities
Submission of an application, including a 400-600-word essay on how and why you give back to your community
---
 Rules
Applicants in grade 12 must be planning to enroll in a full-time undergraduate course of study at an accredited two- or four-year college or university, or accredited trade or vocational school.
The scholarship money is applied to fall (2021) tuition.
All requested information must be received for application to be considered.
Scholarship funds will be made payable to the institution specified by the winners.
Scholarship winners must agree to allow their name and information to be published by the credit union for promotional purposes.
This is not a one-time scholarship; however, applicants must complete a new application to be considered for each academic year.
Restrictions
FFCCU employees and board members, and their immediate family members (siblings, parents/guardians or grandparents) are not eligible.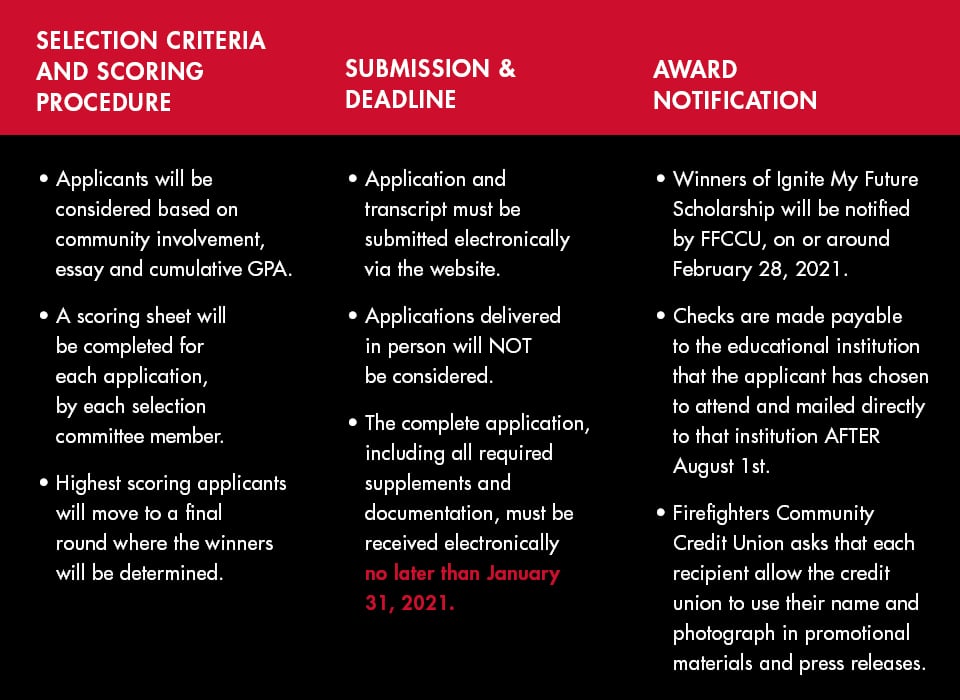 For additional questions please contact Alyssa Garcia Evanoff, Chief Marketing Officer, at aevanoff@ffcommunity.com
---
Selection Criteria and Scoring Procedure
The selection committee, comprised of FFCCU Board Members and Teammates, will individually evaluate each application without identifying information. Applicants will be considering community involvement, essay, and cumulative GPA. The selection committee will not review any additional information given. FFCCU will complete a scoring sheet for each application by each selection committee member. The highest scoring applicants will move to a final round where FFCCU judge panels will determine the winners.
SUBMISSION AND DEADLINE
Please follow the submission instructions outlined on the application webpage. Applications and transcripts need to be submitted electronically via the website. FFCCU will not consider applications delivered in person. If you do not follow directions thoroughly, your application will not be considered.  The complete application must include all the required supplements and will need to be submitted electronically no later than January 31, 2021.
AWARD NOTIFICATION
FFCCU will notify only winners of the Ignite My Future Scholarship on or around February 28, 2021. Checks will be made payable to the educational institution that the applicant has chosen to attend and mailed directly to that institution AFTER August 1. Firefighters Community Credit Union asks that each recipient allow the credit union to use their name and photograph in promotional materials and press releases.