Student Loan Repayments Resume – What Borrowers Should Know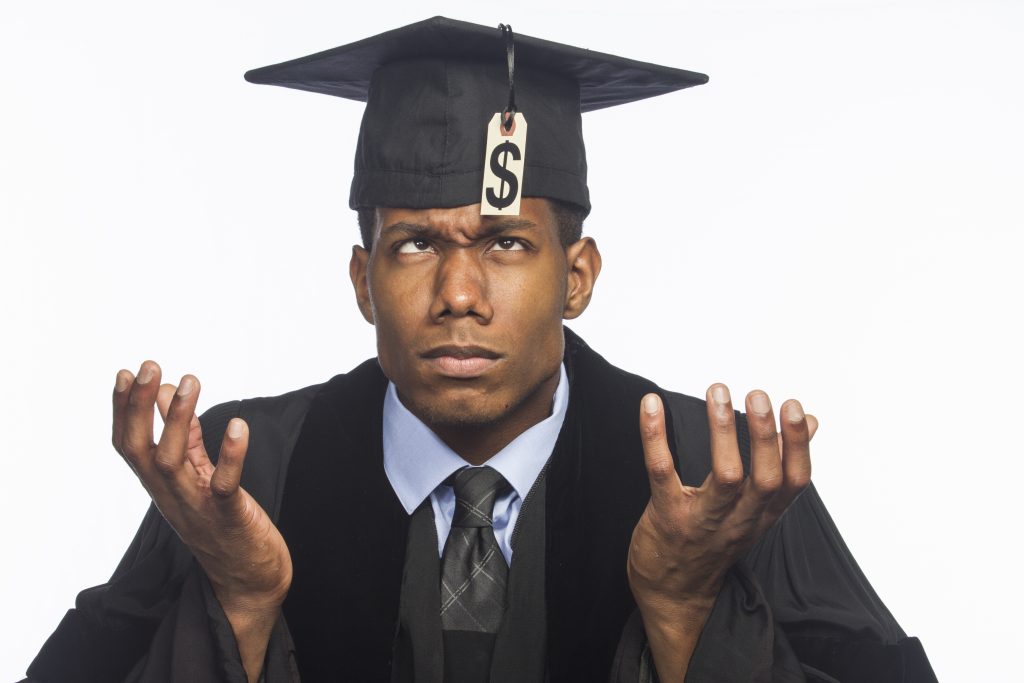 October is approaching – much to the delight of spooky season supporters. Young ones are gearing up for trick or treat. Film fans look forward to a month of movies featuring menacing monsters. But for college graduates with outstanding student loans, this October may feel a lot like a horror movie than in years past: just when you thought your current financial habits were safe – the student loan repayment returns!
This financial Freddie Kreuger is poised to slash its way through borrowers' budgets beginning in the month of October, with interest accrual starting back up as of September 1st. After repeated extensions of the student loan repayment pause and a tumultuous (and still somewhat uncertain) path for loan forgiveness legislation, borrowers are understandably confused about what is to come when the leaves fall, and monthly costs rise.
Navigating your loan situation is not a one-size-fits-all solution, but we have some general advice to form a plan and build your confidence in the face of looming student loan repayment.
STUDENT LOAN REPAYMENT – DEVIL'S IN THE DETAILS
First, you will want to log in to the Federal Student Aid website and refamiliarize yourself with your loan details. If you saved old records, confirm that your principal and interest amount check out. We recommend heading to studentaid.gov rather than the page for your servicer due to some shuffling around of various loan servicers. A handful of student loan servicers, like Navient, abandoned their government contracts during the last few years, passing accounts to other loan servicing companies. Logging in to the Federal Student Aid site will provide you with the most accurate, current information. If something looks amiss, you can always contact them at 1.800.433.3243.
In addition to this, know which (if any) of your loans are federal and which (if any) are held by private companies. To confuse matters, some loan corporations will act as servicers for federal loans and also offer their own private loans. Assistance offered to federal loan holders is unlikely to be replicated for private loans.
WATCH OUT FOR THE SCAMMER SQUAD
You'll likely be receiving communications from both a student loan servicer and the Federal Student Aid Office. While communications from the fed (part of the Department of Education) typically arrive by email, loan services may contact you through snail mail, text, or even by robocall. With scamming on the rise, it's probably worth your time to vet any communications from servicers before you start sending in payments and information! As if student loan repayment wasn't stressful enough, a recent uptick in activity from spoofers and other digital thieves adds to the mix. They will know that a flood of borrowers anticipate communications from legitimate companies they may not have heard of before. Scammers could use that as an opportunity to catch you unaware. When in doubt, contact any company reaching out to you through official means on their website and confirm that communication is authentic.
STUDENT LOAN REPAYMENT RESCUE
The return of student loan repayment might be causing you some panic – but there are options to minimize the burden on your finances! Many servicers offer income-based plans that cap your payments based on how much money you make, tailoring repayment to your income.
Thinking longer term, loan forgiveness programs like Public Service Loan Forgiveness – eligible for government employees and staff of select non-profits – might be available to alleviate your debt in the future. Some federal forgiveness plans are income-driven and offer to wipe your debt regardless of the balance at the end of 20-25 years. Even more borrower-friendly versions of these debt forgiveness programs are slated to go live next year, but firm details haven't arrived yet.
For borrowers who have defaulted on their loans, the newly announced Fresh Start program is a path to return loans to good standing for eligible borrowers. Enrollment is not automatic, however, and borrowers who would benefit from this lifeline will need to for information about eligibility and application.
STUDENT LOAN REPAYMENT RISES AGAIN!
Stay informed about student loan repayment – and keep the October terrors limited to the small screen. If you haven't looked in on your loan details lately, get up to date and determine if your previous loan servicer has changed. Be alert for scams, and keep an eye on the news for developments on student loan assistance and forgiveness programs.
If debt relief isn't coming fast enough, and you have concerns about your overall budget – that's where we come in! FFCCU is always happy to help as you make a plan to confront financial fears. Contact us to sit down, and we'll see what options might be available.
Posted In: FFCCU News and Info, Tips For Managing Finances