Get to know FFCCU's digital banking tools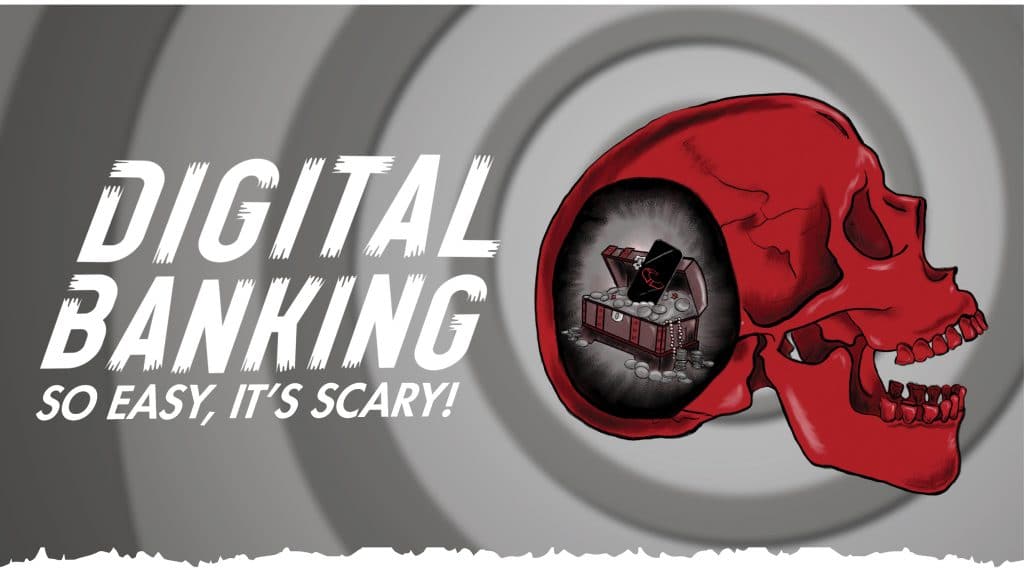 Digital technology is deeply transforming how we conduct our everyday banking activities. New tools give us the flexibility to make transactions whenever and wherever we want. They allow us to pay bills, transfer funds and make deposits with a few taps of our smartphone. And they give us added security, protecting our identity and finances better than ever. Plus, digital banking provides a clear financial snapshot, allowing us to view our transactions, banking histories and balances in real time.
At FFCCU, we offer a growing number of digital banking tools that add convenience and peace of mind. And we're rolling out several new tools in the coming months, to better serve your banking needs – no matter where you are.
Online banking
With our free online banking service, you can securely access your accounts 24 hours a day, 7 days a week from the convenience of your home. You can conduct virtually all the banking activities you would do if you visited us in person. Available through your web browser, you can transfer funds, set up online statements, activate an ATM or debit card get alerts, view and download past statements and pay bills.
The FFCCU Mobile App
According to Forbes, 76% of Americans are now banking via mobile app. FFCCU's mobile digital banking app lets you manage your money right from your smartphone. Available for both Android and iPhone devices, our mobile app enables you to view your account information, transfer funds, deposit checks, and even apply for a loan.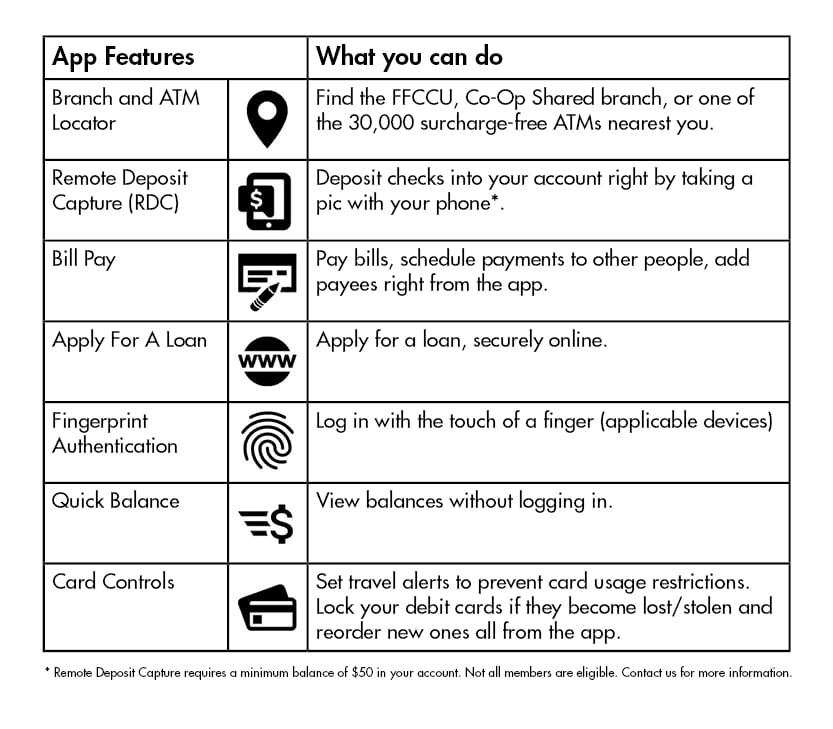 TransAct Phone Banking
Don't have a smartphone? FFCCU also gives you the ability to access your accounts by phone. Transact phone banking offers a wide range of helpful services, including stop payment options, loan information, dividend and interest information, payments and fund transfers, account history and more. The system provides you with prompts to make your transactions effortless and is available 24 hours a day.
P2P Payment Compatibility
P2P (Peer-to-Peer) payment apps are changing the way we pay friends and family. If you're using either Venmo or CashApp, you'll be glad to know that you can easily link your FFCCU accounts to both. This gives you the ability to pay anyone from whichever account you choose. You can also transfer money you've accumulated back into your FFCCU account so it's secure. Not sure how to setup P2P apps? Follow our tutorial here.
NEW: Texting Services
New to the FFCCU digital banking toolbox, our texting service gives you access to the information you need. Got a question regarding hours, ATM information or check cashing polices? Get answers via text to many of these common questions instantly, day or night. During regular business hours, you can also text directly with an FFCCU teammate, who can give you the answers you need without you having to wait in line or wait on hold.
COMING SOON: The FFCCU Credit Card App
If you have an FFCCU Most Rewards or Great Rate VISA credit card, you'll definitely want this digital banking app! It offers a variety of features that give you a heightened level of convenience and security. The FFCCU credit card app allows you to make payments, check transactions, dispute charges, and stop payments. You can also set up alerts for purchases, payment due dates and if charges exceed a certain amount. If you lose your card, you can lock it immediately from the app and contact customer support.
COMING SOON: Contactless Debit Cards
While it's not a remote-use tool, the new FFCCU contactless debit card will help you avoid swiping your card in those dirty card readers. Contactless debit cards have other great benefits, including quicker transactions, increased reliability and security, and more!
At FFCCU, we're committed to providing with high-quality service, whether we see you in person or not. We're excited to bring you our new technology and are always look for new ways to serve you. In the meantime, if you have ideas on how we can make our digital tools better, we'd love to hear about them. Please share your thoughts with us at [email protected].
Posted In: FFCCU News and Info, Member Perks