Advantages of Buying a Used Car: What's the Deal?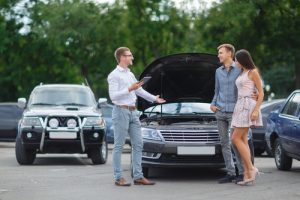 A lesson in the advantages of buying a used car.
You're sitting on the couch watching Netflix when your phone chimes. Your friend sent you a text.
"Hey! I just bought a slick new car. It has a killer technology package and a wicked sound system. Dude! You have to see it. Hit me back and let me know when I can come over. Later."
You toss your phone on the couch and go back to watching your favorite show.
While a shiny new vehicle may have hooked your friend like a cat playing with a new toy, you, on the other hand, know there has to be a better option.
And there is. A used car! Keep reading.
Why Even Consider Getting a Pre-Owned Car?
The advantages of buying a used car rather than a new car are many, especially since dealers have car sales throughout the year. For instance, you can save a lot of money and use the extra funds for something else.
Plus, buying a used car gives you the satisfaction of owning a *new* car because your wheels will be *new* to you.
Most people may think that used cars won't provide quality transportation and comfort. Think again. Dealers sell certified pre-owned vehicles so that you could get a sweet ride for a fraction of the cost of a new car.
Advantages of Buying a Used Car
Before you walk into a car dealership or search online for your next ride, check out these reasons to buy a used car.
Someone Else Took the Bigger Depreciation Hit
When you drive a new car off of a dealer's lot, it depreciates and loses its value. Depending on the make and model, a vehicle may lose 20% of its value in the first year. If you plan on keeping a car for a long time, it may not matter much to you.
If you finance your vehicle and want to sell it in a few years, you may take a financial hit because you can't sell it for the amount you still owe on your car loan. Also, used cars don't depreciate as fast as new cars. After the first year, you can expect depreciation to slow around 9% to 12%, depending on the make and model.
Get an Affordable and Reliable Car for Your Budget
Buying a used car SAVES you money! Used car prices are usually 50% lower than new vehicles, which means you can pay it off faster than you may have thought possible. Plus, you could put your extra cash into a savings account. You never know when you may need it.
Plus, consumers tend to keep cars for six years or less. If you buy a used car for $10,000 instead of $25,000 for a new one, you could save money, which you may use a few years later to buy a new car. Or, you could create your own "2 for 1" deal and buy another used vehicle.
Your Registration Fees May Cost Less Than You Expected
Did you know that in most states, your annual registration fee is based on your car's model year and value? The rate is higher in the first three years but then levels off after five years. You may save money by buying a used car that's at least three years old.
To register a passenger vehicle in the State of Ohio, it will cost you $34.50, plus any other additional fees. For instance, if you want personalized plates, you'll pay $50, a retention fee of $10, and an initial reserve fee of $25.
Insurance Premiums May Be Lower
If you've never been in an accident with a new vehicle, check this out. The insurance pays for what your car is worth at the time of your accident, creating a gap between your original purchase price and what your vehicle is worth. This is where Guaranteed Asset Protection (GAP) comes in because it covers the difference between the amount you paid for your new care and the depreciated value. You may consider getting the extra insurance because if you're in an accident you can protect yourself against any losses that may result from your damaged vehicle.
May Still Have Part of the Original Warranty
Another benefit of buying a used car is that it may still have part of its original warranty. Or you may have the option of creating a new one. If you opt for an extended warranty, skilled technicians can work on and repair your vehicle with quality parts and service.
Consider that if you buy a new car, you may not have the extra money to pay for the extended warranty. Plus, it should cover everything until 100,000 miles or more. Think you can get that with a new car? You usually get a manufacturer's warranty for three-years or 36,000 miles, whichever comes first.
Lower or No Customization Costs
When buying a car, you probably want to keep your costs down as much as possible. However, it's nice to customize your vehicle the way you want it. With the money you save from buying a used car, you can afford to upgrade the stereo system or maybe get your vehicle painted a different color.
Isn't it fantastic that you get to choose what you want?
Reduced Fees that Won't Hurt Your Savings Account
You may think a deal on a brand-new car looks good. However, you have to read the fine print. If you do, you may find hidden or questionable fees such as shipping charges, destination fees, and in some cases, dealer preparation. Hidden advertising fees may cost you $1,000!
A certified pre-owned or used car usually doesn't have any hidden fees, but you may still have to pay a "doc fee," which could cost you a few hundred dollars. Always ask what fees are included so that you understand what you're paying for.
A Certified Pre-Owned Vehicle is Subject to Inspection
You can get a great deal on a certified pre-owned vehicle. And, it assures you that you're getting a quality car or truck that's thoroughly inspected. Certified pre-owned vehicles are inspected, refurbished, and certified by a certifying authority or the manufacturer that's a high-quality vehicle.
If you're concerned about having a warranty, don't be. Certified pre-owned vehicles often come with an extended warranty along with special financing and other benefits. With a new car, you get the assurance that it's new.
Provide a Lower Environmental Impact
Buying a used car reduces the amount of carbon dioxide released into the environment. Why? Because during the manufacturing and initial shipment of a new vehicle, almost a quarter of the carbon dioxide produced during its lifecycle occurs during this time.
Also, consider that a used car impacts the environment less than a hybrid vehicle, which may have either a lithium-ion, lead-acid or nickel-metal hydride battery. These have a more significant environmental impact because they leave behind toxic waste, i.e., the batteries and acid.
Check Out Used Car and Truck Sales and Score a Great Deal
As you can see, the advantages of buying a used car are many. And in today's market, they no longer have the stigma they used to have. You can get a safe and reliable used vehicle for a price that won't shock your checking or savings account.
If you're in the market for a new vehicle, check out the used car sales near you. In fact, you may want to search for "used car near me" to locate the car dealerships in your area. Once you find one and pick out your car, stop into an FFCCU branch and ask us about customizing your term/months. That's right! You get to choose 48 months, 60 months, 72 months, or 84 months and will get the best-used auto loan rate for your credit.
Service is everything!
If you liked this post, would you do us the favor of sharing it! Oh, and sign up here to receive helpful information each month right in your inbox.
Posted In: FFCCU Services, Lending, Lending