6 Ways a Most Rewards Credit Card Gives You the Upper Hand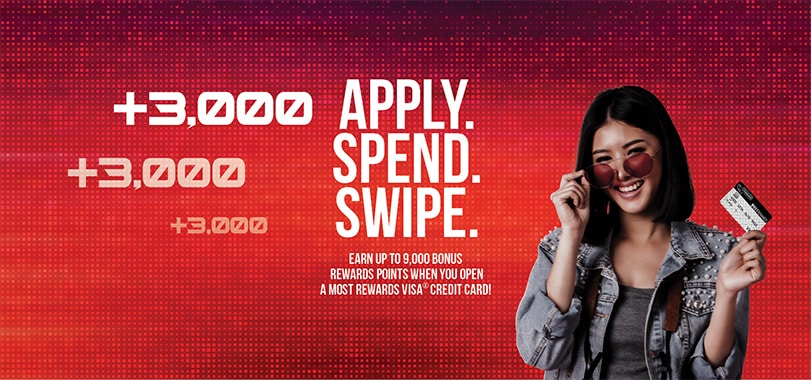 If you think credit cards are scary, you're part of the 26% of Americans that share the same opinion, according to the latest NerdWallet survey. However, when you get the right credit card for your needs and know how to use it, it can quickly become a valuable financial tool. And if you use it regularly for groceries, gas, or shopping, a rewards card could be your perfect companion.
However, always remember to use a credit card wisely and avoid overspending. A good general rule of thumb is, if you don't have the money to pay a purchase off at the end of the month, you shouldn't be buying that item in the first place.
What's a Rewards Credit Card?
This type of card offers a reward for spending money on various goods or services. If the card is a points card, like the Most Rewards VISA® credit card at FFCCU, you'll earn points for each dollar spent. This makes a rewards card especially useful for giving you the most bang for your buck on daily purchases. However, if you're still unsure if a rewards card is the right choice, here are six ways the Most Rewards credit card from FFCCU gives you the upper hand.
You Pay No Annual Fee!
Many rewards cards vary in how much their annual fee cost. According to a U.S. News Consumer Credit Card Fee study, the average annual fee is $110. Even if you generate points from your credit card, check to see if the points offset the yearly cost.
However, the Most Rewards credit card from FFCCU has a $0 annual fee. Therefore, if you pay $0 to have a Most Rewards credit card, you'll only benefit from any extra points you gain from purchases.
Get Points on Everyday Purchases
The Most Rewards credit card can be used for almost any purchase you can think of, including:
Travel
Eating Out
Online Shopping
Grocery Shopping
Gas Stations
Anytime you swipe your card, you'll be accumulating points you can use later to purchase goods, use travel gift cards, or convert to cash.
Receive A Sign-Up Bonus
As a plus, when you sign-up for the Most Rewards credit card, you could earn up to 9,000 bonus rewards points when you apply, spend $500 in 90 days, and swipe your card 10 times by December 31st.* Are you an existing Most Rewards credit card holder? Well, you could still earn 3,000 extra rewards points when you swipe 10 times before December 31st!
Just imagine what you could do with some extra points to kick off the year. If you're trying to save for a vacation, it's a great way to get a head start! Take advantage of holiday shopping this year to earn all your Most Rewards bonus points!
Use Your Points for Good
With most people's hectic schedules, it's hard to find the time to volunteer or donate cash to worthy causes. Our Most Rewards credit card helps you give to others by using Points-2-Charity.
You can donate to the Muscular Dystrophy Association or Rainbow Babies and Children's Hospital by converting your points to cash. It's easy to help others by using your credit card!
Convert Points to Cash
Not interested in using your points for travel, gift cards or merchandise? You can also use Points-2-Cash to convert your points to money or credit toward your bill! If you already have a savings or checking account at FFCCU, direct depositing the money you earn from your credit card is a fast option.
If you have an outstanding balance on your credit card, you can also use those points to help pay off what you owe. Just remember that if your balance is more than what your rewards points are worth, you'll need to pay off the rest with your own funds.
Customize your rewards points to work for you, whether it's through travel gift cards, charity, merchandise, or cash!
Use Technology to Keep You on Track
With work, school, or anything else you may be tackling, it's tough to keep track of it all. That's why, with a Most Rewards credit card, you can use digital tools to your advantage. FFCCU offers a Visa Credit Card App where you can make credit card payments, get e-alerts, set travel alerts, review card transactions, and so much more.
Get Swiping and Start Saving with a Most Rewards Credit Card! 
If you're looking for ways to maximize your everyday shopping and get rewarded, the Most Rewards credit card is the right choice! With a $0 annual fee and new bonus rewards points, it's a card worth having in your wallet.
* Available for qualified borrowers on new Most Rewards VISA Credit Cards activated between 10/15/22 and 12/31/22. 3000 bonus rewards points can be earned for opening a new card and making one purchase, 3000 bonus rewards points can be earned for spending $500 on the card within the first 90 days after activation, and 3000 bonus rewards points can be earned by making 10 purchases posted between 10/15- 12/31/22. 3000 points will be earned for each of these activities for a possible maximum of 9,000 rewards points. Balance transfers do not qualify as a rewards points transaction.
Available for Most Rewards VISA Credit Card holders with cards activated on or before 7.15.2022. Cardholders will receive 3,000 bonus rewards points for making 10 purchases between 10/15 – 12/31/2022. Purchases must be posted by 12/31/22 to be eligible. Balance transfers do not qualify as a rewards points transaction.
Posted In: Lending