How to Talk to Younger Kids (Ages 3-12) About Money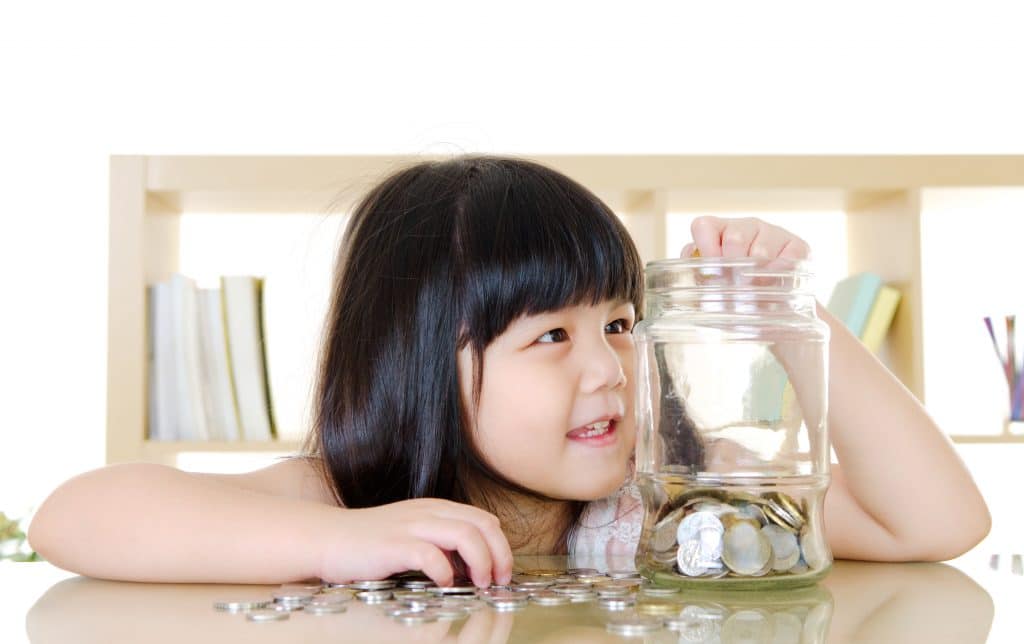 Today guest blogger Nichole Coyle, CERTIFIED FINANCIAL PLANNER™, explores the importance of teaching younger children about financial planning and money to set them up for success as they become more independent.
Learn the Value of Money
Do your children ever receive money for their birthdays or other holidays? Or have you started some monetary reward system with them?  Even if they only have a small amount of cash they receive from time to time, it's still important to teach them about basic money principles.
One of my favorite fundamental lessons involves visually allocating the money children receive. For this teaching point, I love the idea of using see-through containers (so kids can easily see what's inside) and allocate their funds themselves
Basic Supplies Needed:
 Three clear jars, like mason or pickle jars or plastic containers.
 A label for each jar. You can use chalk paint, print a label off your computer, colored duct tape and sharpie marker or a piece of construction paper (this is your time to get creative).
Next, label each jar Save, Spend, Give.
Anytime your child receives money, no matter the amount, help guide them on how to allocate those funds. The decision on how to split the money is up to you, but popular ideas include splitting it equally three ways, saving at least 50%, etc. There's no right amount. This simple act can bring up great conversations with your kids.
Talk about Giving Money
When you talk about the Give Jar, incorporate the importance of giving to others in need. Maybe you tithe 10% to your place of worship or donate to a non-profit or other good cause. Talk about where your own "give" money goes, and why.
This helps children learn about sharing, kindness, blessing others, or your faith. Maybe share a story with your child about an impact you've made or a particular cause that you feel good about helping.
Talk about Saving Money
We live in a world of instant gratification, which isn't always financially healthy. The save jar is an excellent opportunity to talk to them about delayed gratification.
Teaching the next generation about saving up for something they want could help them avoid issues with debt later in life. You could print or cut out a photo of what your child is saving to buy. Attach the image to their jar, so every time they put money into that jar, they are reminded of why they are saving that money and not spending it immediately on something else.
You can also have them take their coins into your local FFCCU branch each month to deposit them into their Sparky Kids Club Account. FFCCU matches their coin contribution up to $5 each month! Depending on the age of your child, you can also discuss interest when making deposits. This will help them to understand why the money they save should go in a bank versus just sitting in their save jar. Let's say your child saves a dollar a day in their Save Jar. You could tell them you are going to put 10 cents in a day as a form of earning interest on their money and that is what a bank does, essentially give "free money" in your account when you save money.
Talk about Spending Money
Let your kids choose how they want to spend the money in their spend jar. Planning ahead of time is also a good lesson for kids. Look online, at TV ads, or in a catalog and get excited talking about how to spend their money. Tell them how much they have to pay and deduct each item's cost from that total. This helps kids not only learn to plan for their purchases ahead of time but also the value of a dollar.
Once your child decides how they want to use those spend funds, have them physically take the money from their jar and pay for the item, in the store if possible.
Depending on their age, you can explain a little about sales tax as well. They may ask why the $5.00 toy they came to buy cost $5.34, which would be a good time to explain why we have taxes and how they work, (on an elementary level, of course).
Talking about Money Early Sets Children Up for Success in the Long Run
Using this jar method to teach young kids about basic financial planning and money principles can help set them up to be responsible and successful in managing their money as they get older and managing their finances.
If you have any questions and would like to discuss this topic or any other financial topic, please don't hesitate to contact me! If you don't want to miss a blog post from me, sign up here for a monthly reminder and link to my blog post.
Nichole M. Coyle
CERTIFIED FINANCIAL PLANNER™
20333 Emerald Pkwy
Cleveland, OH 44135
216.621.4644 x1607
Securities and advisory services offered through Cetera Advisor Networks LLC, member FINRA/SIPC, a Broker-Dealer, and a Registered Investment Advisor.
Cetera is not affiliated with the financial institution where investment services are offered or any other named entity.
Investments are: Not FDIC/NCUSIF insured * May lose value * Not financial institution guaranteed * Not a deposit * Not insured by a federal government agency.
Posted In: FFCCU Services, Tips For Managing Finances