Holiday Tips: Get the Top Four Ways to Cut Costs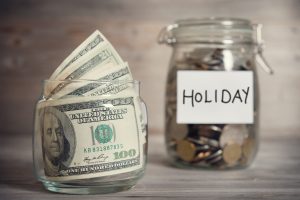 While the excitement of the holidays and gift-giving season can be a magical time for children, you may face many additional expenses during the last two months of the year. Whether its gifts, food, decorations, the perfect outfit for that holiday party, or airfare to visit family – there's no denying the holidays can put a dent in the wallet. This is why it's good to use holiday tips that can help you to save more money.
According to a 2016 Mid-Year Consumer Survey, conducted by the Ohio Credit Union League, 22 percent of respondents spend more than $1,000 on holiday expenses, 35 percent between $500 and $1,000, and 28 percent between $300 and $500. During last year's holiday season, the average American spent $734 on gifts, $120 on food, $78 on decorations, and $85 on flowers and cards, according to AOL Mass Media.
Traveling can be another major expense throughout November and December. AAA reports that due to low gas prices, 41.9 million people took a road trip last Thanksgiving, and another 36.1 million journeyed by plane. In Ohio, 21 percent of survey respondents said they plan to trek more than 100 miles this holiday season.
With so many additional expenses in a month, it's a good idea to set money aside throughout the year for year-end holiday expenses. Why? Because if you don't have additional income for the holiday season, cutting costs may be necessary to stay financially afloat during November and December. Read on to learn the best holiday tips that can help you cut costs and save during the holidays.
Cut Costs with These Top Holiday Tips
Below are the best holiday savings tips that can help you to cut costs during the season. After all, the more you save, the more you can put towards something else, perhaps a family vacation, new car, or home mortgage.
Credit Card Rewards
Many credit cards offer reward points for using their card. These points can be used like cash to purchase merchandise such as gift cards or electronics. Try cashing in your points to cover the cost of someone's gift. If you don't have a rewards credit card, check out our Most Rewards VISA Credit Card.
Bargain Shop
Check online sites such as slickdeals.net, Woot!, and Brad'sDeals to search for the best bargains. If you haven't signed up for Amazon Prime yet, it may be worth it just for the free shipping, especially if you do a lot of online shopping for the holidays.
Shop Early
The optimal time for holiday shopping is between Oct. 1 and Dec. 1. Spending a small amount on gifts each week before the holiday rush is a good way to avoid putting a large chunk of debt on a credit card at one time. Shopping early also relieves the feeling of rushed, last-minute shopping, which can result in purchasing gifts regardless of price.
Holiday Club Account
Although not applicable for this year, consider enrolling in a credit union Holiday Club account to start saving for next year's holiday expenses. It's a savings account that you stash money in all year and have limited access to until the holiday season rolls around.
Are You Ready to Save During the Holidays?
Don't the holidays stress you out! Let one of our Firefighters Community Credit Union teammates help you save during the holidays and throughout the year.
To learn more about how FFCCU can help you reduce your holiday costs, call, click, or walk into a branch today, ask about one of our teammates about our Skip-A-Pay, which gives qualified members the chance to skip their November or December loan payment. Imagine skipping one loan payment. How would you use the extra cash for the holidays? Another option is our Dare 2 Compare challenge. We'll review your accounts to see how much money you could potentially save. Check out our programs today, and you may be saving more than you thought possible tomorrow.
Did you like this post? Share it and sign up here to receive helpful information each month right in your inbox.
Posted In: Local Events, Tips For Managing Finances