What You Need to Know About Club Savings Accounts!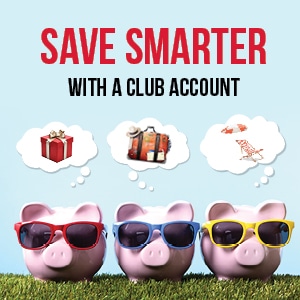 Are you thinking about a summer getaway? Do you want to get a jump start on saving for the next holiday season? Opening a club account could help you achieve those savings goals!
You may be wondering what a club account is and how to use it? Continue reading because we answer some common questions that come along with these types of accounts.
What is a Club Savings Account?
Club accounts are designed for a specific purpose or goal. You can open them whenever you realize you need it.
General savings accounts can help you with your financial goals, but the most popular option for holiday and travel is club accounts.
What is a Holiday Club Account?
This account is an excellent tool to help with your end-of-year savings goals. It allows you to save money into a separate account, curbing the urge to spend before the holiday season. It can be opened by one of our friendly teammates or online when you log in to online banking, making it extremely easy and convenient to open.
You can make deposits as frequently as you like by having it automatically taken out of your direct deposit or by general deposit.
Your account funds are deposited into your checking account the first week of October (roughly October 1), which makes it easier to get a jump start on that holiday shopping.
What is a Travel/Vacation Club Account?
This account is similar to our Holiday Club Account except for one significant difference: you can access the funds at any time, allowing flexibility when setting your travel goals!  Money can be deposited in multiple ways, making it effortless to save money.
Interested in opening a Club Account? Ask a friendly teammate how you can get started saving for your holiday or travel needs today, or if you have online banking, go to 'More services and select 'Open a Sub Account.'
PS – Did you like this post? Share it and sign up here to receive helpful information each month right in your inbox.
Posted In: Saving