Thinking About Buying a New or Used Motorcycle? Here's What You Need to Know!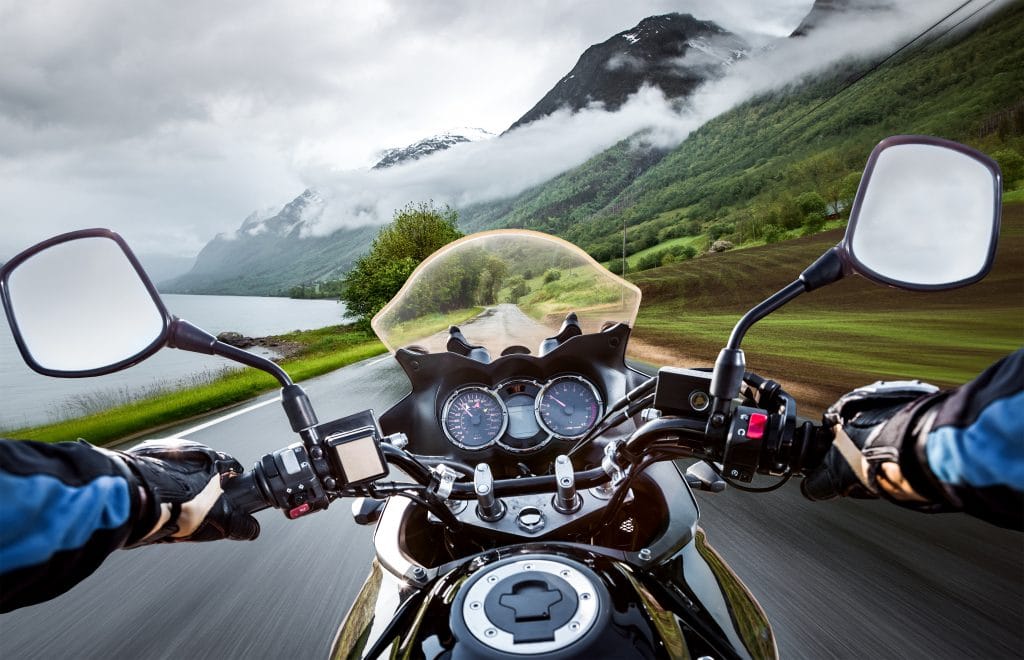 Do you picture yourself cruising the open road on a motorcycle? The adrenaline coursing throughout your veins while cruising through rural backroads or open highways?  Maybe you've dreamt of driving across the country or just going out for an afternoon ride? Whichever motorcycle you've had your eye on, it's a good idea to know a few things about them before buying one that's new or pre-owned.
Type
A sportier bike will have a committed riding position and may hurt your back and wrists after a while, while a bike with a more upright position is more comfortable for longer rides. A sportier bike may also cost more, especially when you factor in insurance payments.
Most riders chose their motorcycle because they felt a connection with the bike. Performance is important, however, the bike that gets your heart racing will most likely be the one for you.
Suspension
When you sit on a bike, press down on the front end to test the forks, which should return to their position immediately and somewhat silently. Loud noise may not be good news. The fork seals should be clean and smooth. You shouldn't see oil on the seals or the forks.
Bounce up and down on the seat; even though you may look or feel funny doing this. The rear shocks should have some resistance and return to their normal position without springing up and down.
Brakes
As you sit on a bike, take it out of gear, roll it forward, and gently apply the brakes. The brake lever should be smooth when you squeeze and release it—you should come to a slow stop and hear little or no noise from the brakes. The brake calipers shouldn't drag. If they do, that's not a good sign, and they'll need work.
Tires
A brand-new bike should have great-looking tires. However, you'll still want to inspect them to ensure there are no marks and that the tread looks even. The same goes for a pre-owned bike. Ask how old the tires are and how many miles they have on them.
Fuel Tank
Bring a flashlight, open the cap, and inspect the fuel. It should be amber-colored, and you should see the metal interior of the fuel tank.
Dark fuel means it's old and needs to be drained and replaced. On a pre-owned bike, check for rust, grit, or sediment. A fuel tank with a coating applied to it to prevent or cover old rust will show a light milky surface.
Clutch
Test the clutch and release it slowly. Is it smooth? Some slack is okay, but any excess will need to be adjusted. When the clutch is engaged, you shouldn't feel any "snags" or "pops."
Coolant
It should be neon green and smell sweet. Brown coolant indicates either rust or oil has gotten into the engine. Oil in the coolant means the head gasket leaked, or the O-rings failed. Both of these indicate problems, and you may want to buy another bike.
Oil
If a bike has a sight glass on the side, you can see the oil color. If not, insert a cloth, dipstick, or paper towel into the oil filler cap to see if it's clean. Dirty-looking oil requires changing. Oil with milky white streaks means that water has gotten into the engine, and you would have to rip the engine apart. It's better to find another bike.
Start
Listen for unusual noises. If you don't hear any, check the bike's lighting system and make sure the headlight works properly (low and high beam). Check the turn signals, brake lights, and hazard lights. Inspect all gauges.
Gear
Don't forget your gear! Make sure you get your helmet, jacket, gloves, and boots/footwear before you hop on and hit the road. It's also a good idea to check out your local motorcycle safety course if you're a new rider or want to brush up on your riding skills.
Are You Ready to Finance Your Motorcycle?
After you've decided which motorcycle works best for you, consider getting a recreational vehicle loan to finance your fun. From now through May 15, you can score an interest rate as low as 3.99% APR*.
With rates this low, where will you go? The road is calling.
Did you like this post? Share it and sign up here to receive helpful information each month right in your inbox.
Posted In: FFCCU Services, Lending