How to Protect Yourself from Scamming and Fraud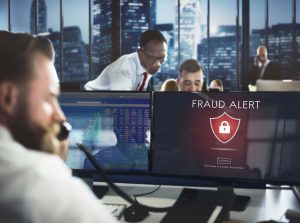 Gotcha! If you shop online, keep one eye on your shopping cart because the holidays bring out false shipping notifications, payment fraud, and other scams. Because of scamming and fraud, identity theft protection has increased over the years.
Being scammed isn't fun. And when fraud is committed, it can wreak havoc on your life and personal finances, especially when credit cards are involved.
We're giving you tips on how to protect yourself from scamming and fraud. And if it ever happens to you, know that help is available.
How to Protect Yourself from Scamming and Fraud
Christmas in July, Black Friday and Cyber Monday, oh my! If you use a mobile app, website, or even shop in-person, be aware of where you're buying goods and services. And if you have to make last-minute purchases, keep calm and shop vigilantly!
Even though you may have taken every precaution, scamming and fraud happens. Use the tips below to protect yourself.
1. Take advantage of alerts to monitor your debit and credit cards.
2. Pay attention to websites, links, and emails before clicking on them.
3. When possible, use stored payment information instead of entering card information on web forms because these may have malware installed.
4. Make sure your computers, laptops, and mobile devices have the latest antivirus, antispyware, and firewall protection.
5. When buying online, purchase from well-known websites.
6. If you're not familiar with a company, go directly to a website instead of social media website advertisements.
7. Be aware of shimming and skimming devices when you visit an ATM or gas pump (use the pump closest to the entrance door).
8. Monitor and review your accounts daily and report the unknown activity immediately.
What are some of the Latest Scams?
Below is a list of scams to watch out for.
Donation and Fake Charities
Before you donate to a charity or crowdfund, make sure it's legitimate. Check sites like Charity Navigator to learn more about a nonprofit and to make sure they're reputable. If you donate to crowdfunding, give wisely.
E-Skimming
E-commerce sites with weak links are a haven for scammers. A consumer who's redirected to a malicious domain can have their information on the checkout page captured by a skimming code quickly, which is sent to criminals on a remote server. Your credit card data can be sold or used to make fraudulent purchases.
Porch Pirates
During the year, especially near the holidays, some people steal packages from doorsteps and porches. If you live in an apartment, ask to have your packages delivered to the leasing office. If your family works from home, let them know that you're expecting packages.
Shipment Update Scams
Watch out for fake emails about delivery failures or the request for shipping information. The email may look real, but there's a good chance it's fake and contains malware. When in doubt, don't provide personal information and contact the company from whom you bought goods or services.
Social Media Scams
Click on an ad, and it may lead to a fake website. If you proceed to enter your payment information, you may never see the goods. Worse yet is that your identity may be stolen! Make sure your antivirus is up to date so that you can avoid being scammed on social media.
Stop Scammers from Ruining Your Finances and Well-Being
When scammers enter your life, they cause you stress, frustration, time, and money. Plus, dealing with fraudulent activity on your credit or debit cards is something that you shouldn't have to deal with, especially since it may take a while to sort things out.
The more you know how to protect yourself against scams and fraud schemes, the better. Refer back to this blog post as often as needed and share it with your family and friends.
Did you like this post? Share it and sign up here to receive helpful information each month right in your inbox.
Posted In: Local Events, Tips For Managing Finances