Career Opportunities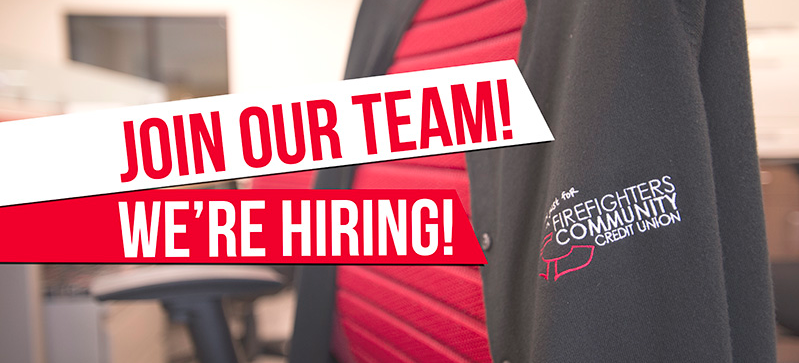 For over 80 years, we've been serving firefighters and our community by offering a full array of financial services and products. We have grown to over 30,000 members and are one of Northeast Ohio's fastest-growing credit unions. Our teammates enjoy a fun, interactive, fast-paced work atmosphere where we carry out our mission and live the credit union motto of people helping people, every day. We reward our team with excellent benefits, a generous 401k, and a wellness program. Our culture promotes health, happiness and an excellent work-life balance. FFCCU is an Equal Opportunity Employer.
If you're looking for more than just a job, and for a place where you can make a real difference in the lives of others, then we encourage you to apply to join our team.
Current Careers & Openings
Financial Solutions Specialist – Parma
We are looking for candidates that are passionate about helping customers with their immediate and future financial needs while seamlessly transitioning between teller and platform roles throughout the day. The FSS is responsible for providing an exceptional in-branch customer experience by handling customer needs from sales to service, including performing teller transactions, opening new accounts, taking loan applications, completing loan closings, and everything in-between. To assist customers and potential customers with their Credit Union needs; providing expertise with respect to more complex Credit Union services such as IRAs, share certificates, electronic funds transfer, online banking, etc.; 2+ years' experience in: cash handling, customer service, computer usage and sales preferred with a minimum of a high school education.

---
CRM Data Specialist
Our Company
At Firefighters Community Credit Union, we believe people are far more than just their credit score. By listening to our members and treating everyone fairly, we give back what our members put in. Our members truly make a difference: their deposits fund other member loans, and those loans help to keep both our rates and fees low. FFCCU's foundation is local people making an impact on the lives of individuals and our community. We are people helping people.
Our Opportunity
We are in the market (get it) to add a CRM Marketing Analyst to our growing marketing team!
Our ideal candidate has strong analytical skills, CRM knowledge or business intelligence systems, and experience with email automation (Exact Target, Active Campaign, HubSpot, MailChimp, etc.). Good credit is important to us.
You will be responsible for executing our segmentation and CRM (customer relationship management) targeting strategies and reporting on the effectiveness of our marketing programs.
Who you are: 
You love data!
You are detail-oriented.
You enjoy problem-solving and have a "can-do, figure it out" attitude.
You can translate broad concepts into detailed project requirements.
You are a self-starter, an ongoing learner, and motivated to solve any challenge you encounter.
Summary
Monitor CRM performance; evaluate and resolve problems; design database management tools; and provide support.
Manage daily execution of emails from concept, targets, set-up, quality review, and scheduling.
Drive traffic and revenue by executing daily email sends and increasing email engagement through testing and analysis.
Build and maintain the email marketing calendar and partner with teammates to plot the messaging.
Work cross-functionally to cleanse marketing data, add new data elements, and provide data governance.
Use CRM software to analyze member data and make recommendations on marketing and member service initiatives.
Measure and report performance of implemented sales and marketing initiatives to evaluate their return on investment (ROI).
Provide insights and recommendations to management based on research, internal and external data, along with market conditions.
Utilizing knowledge of the CRM system impact, contribute ideas for marketing strategy, segmentation, and targeting to support the organization's strategic goals.
Work cooperatively across all departments to support the cohesive application of all marketing messages across all delivery channels.
Required Skills/Experience
Bachelor's degree
Minimum of 2 years of experience, preferably within a marketing or financial environment
Database management, execution, and maintenance experience
Understanding of predictive modeling
Understanding of email fundamentals and KPIs
Strong written and verbal communication skills; ability to translate technical into non-technical terms as well as translate strategic thinking into tactical needs
Proficient in Microsoft Excel
Analytical thinker with the ability to identify and proactively solve problems
Strong time management, interpersonal and communication skills
Preferred Qualifications
SQL or SAS experience
Email campaign management tool experience
---
Having trouble applying online? Contact our HR Department about careers and jobs: Call 216.621.4644 x 1197 or email: hr@ffcommunity.com.
Equal Opportunity Employer. FFCCU is a not-for-profit organization dedicated to providing a full spectrum of financial services.