Career Opportunities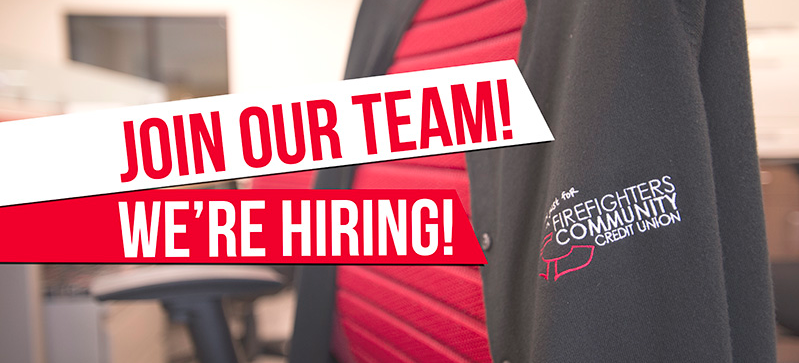 For over 80 years, we've been serving firefighters and our community by offering a full array of financial services and products. We have grown to over 30,000 members and are one of Northeast Ohio's fastest-growing credit unions. Our teammates enjoy a fun, interactive, fast-paced work atmosphere where we carry out our mission and live the credit union motto of people helping people, every day. We reward our team with excellent benefits, a generous 401k, and a wellness program. Our culture promotes health, happiness and an excellent work-life balance. FFCCU is an Equal Opportunity Employer.
If you're looking for more than just a job, and for a place where you can make a real difference in the lives of others, then we encourage you to apply to join our team.
Current Careers & Openings
Financial Solutions Specialist – Parma
Our NEW Parma branch is looking to hire a Financial Solutions Specialist. If you want to impact the lives of others positively, we encourage you to keep reading.
We want to meet candidates who live and breathe customer service and are passionate about helping our credit union members and potential members with their immediate and future financial needs while seamlessly transitioning between teller and platform roles throughout the day.
Summary
The FSS is responsible for providing an exceptional in-branch customer experience by handling member needs from sales to service, including performing teller transactions, opening new accounts, taking loan applications, completing loan closings, and everything in-between.
The Financial Solutions Specialist will also assist members and potential members with their credit union needs, providing expertise for more complex credit union services such as IRAs, share certificates, electronic funds transfer, online banking, etc. Good credit is important to us.
Qualifications
We are looking for candidates who have 2+ years' experience in:
Cash handling
Customer service
Computer usage
Sales and cross-selling experience preferred
Minimum of high school education
---
Call Center Representative
The ideal candidate will be responsible for performing a variety of member services via in- and out-bound telephone calls, email exchanges, and online chats. The candidate will provide service and support for members dealing with requests that are both routine in nature and some that require extensive research and use of problem-solving skills to identify and resolve issues.
Responsibilities include, but are not limited to, system account maintenance, establishing and servicing various deposit and loan accounts, answering member questions and providing solutions, cross-selling products and services to new and existing members, and assisting members with a variety of miscellaneous issues.
The position may require new member follow up for accounts opened online or via the indirect lending channel. The position requires the previous account cross-sell success, a desire to assist members in expanding their relationship with the credit union, the ability to uncover opportunities using a needs-based assessment, the ability to confidently recommend solutions, excellent public relations skills, and a solid understanding of credit union products and services.
Efficiency, accuracy, and professionalism are vital for this position. Must have a good credit history.
---
Teller – Full-Time
To represent the credit union in a professional manner when greeting members and the general public on the phone and in person, ensuring that they are directed to someone who can provide them with assistance. To assist members with their financial transactions, involving paying and receiving cash and other negotiable instruments.
Essential Functions & Responsibilities
Receives and processes member financial transactions, including deposits, withdrawals and loan payments; sells money orders and travelers' checks to members; transfers amounts from member accounts as directed; maintain member records.
Balances cash drawer and daily transactions.
Welcomes members and visitors and provides routine information concerning services or directs them to the appropriate department for specific information and service.
Reviews all incoming faxes, emails, and messages and forwards or distributes them to the appropriate person or department. Answers phone and directs callers to the appropriate person.
Cross-sells credit union services.
Maintains lobby appearance and follows opening and closing procedures.
Supports overflow needs both within and outside the department, as time allows.
Performs other related duties as assigned.
Performance Measurements
To provide prompt, accurate, courteous, friendly, timely and professional service to all members (assist members waiting in the lobby within five minutes; answer the telephone within 2 rings; respond to all correspondence within 4 hours or within the same day).
To balance at least 90-95% of the time, being no more than $30 off and with total offages not to exceed $500 in a 12 month period. To have no more than three posting errors per review.
To process at least 15% of teller transactions per month.
To direct all phone calls to the appropriate person with minimum transfers.
To maintain a professional appearance and demeanor for greeting visitors, including the appearance of the lobby.
Knowledge, Skills, and Abilities
Experience
Up to six months of similar or related experience.
Education
A high school education or GED.
Interpersonal Skills
Courtesy, tact, and diplomacy are essential elements of the job. Work involves personal contact with others inside and/or outside the organization, generally regarding routine matters for purposes of giving or obtaining information which may require some discussion.
Other Skills
Able to operate a 10-key calculator and computer keyboard by touch. Must have good communication skills, be good with detail to deal with numbers and names. Possess basic computer knowledge and ability to adapt to changes. Multi-line phone system operations.
Physical Requirements
To be required to move frequently and regularly using wrists, hands, and/or fingers. Speak clearly, to hear and understand, visual acuity necessary to prepare or inspect documents, and although position is primarily sedentary, should be able to exert up to 10 lbs. of force occasionally and able to lift/move up to 50 lbs. on occasion.
Work Environment
General office environment.
---
Financial Services Representative
To assist customers and potential customers with their credit union needs; provides expertise with respect to more complex credit union services such as IRAs, share certificates, electronic funds transfer, online banking, etc.; explains services, sets up new accounts, respond to problems, and direct customers to the appropriate people. To assist customers with Loan Applications, process and make loan disbursements.
2+ years' experience in customer service, computer usage and sales preferred with a minimum of high school education.
---
Having trouble applying online? Contact our HR Department about careers and jobs: Call 216.621.4644 x 1197 or email: hr@ffcommunity.com.
Equal Opportunity Employer. FFCCU is a not-for-profit organization dedicated to providing a full spectrum of financial services.