Career Opportunities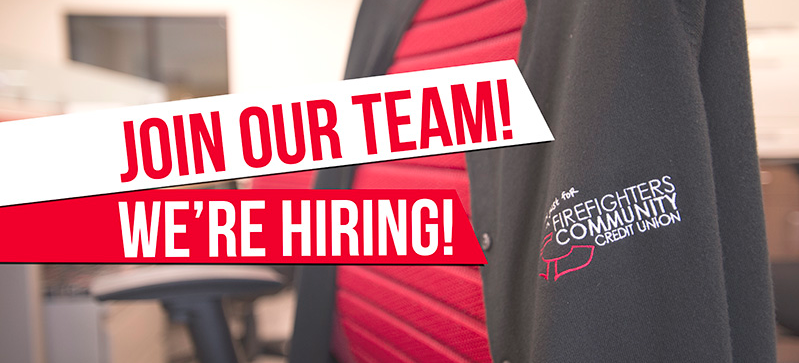 For over 80 years, we've been serving firefighters and our community by offering a full array of financial services and products. We have grown to over 30,000 members and are one of Northeast Ohio's fastest growing credit unions. Our teammates enjoy a fun, interactive, fast-paced work atmosphere where we carry out our mission and live the credit union motto of people helping people, every day. We reward our team with excellent benefits, a generous 401k, and wellness program. Our culture promotes health, happiness and an excellent work-life balance. FFCCU is an Equal Opportunity Employer.
If you're looking for more than just a job, and for a place where you can make a real difference in the lives of others, then we encourage you to apply to join our team.
Current Careers & Openings:
We are seeking a Digital Marketing Specialist to join our growing team! Our in-house marketing department is fast paced and always evolving with new marketing trends that will allow the Digital Marketing Specialist to expand their skill set in a variety of digital marketing outlets. The Digital Marketing Specialist will be responsible for owning and supporting website/CMS updates, email marketing/nurturing campaigns, content management/strategy, social media, PPC, SEO, and reporting through data analytics. This role requires an in-depth knowledge of tech-savvy products, market goals, digital marketing and digital production. Proven experience delivering effective and innovative campaigns, including online ads, micro sites, and social media applications. Solid understanding of web metrics, digital analytics, with the ability to generate, analyze and interpret data. Must be able to meet ongoing deadlines and manage multiple projects across multiple lines of business. Good credit is important to us.
Requirements:
Associates degree required. Bachelor's degree preferred.
2-5 years' experience in executing digital marketing strategies, content creation, email marketing, CMS administration.
Strong knowledge of digital space including but not limited to website, marketing automation, SEO, PPC, email, Google Analytics, social media, blogs
Strong project management skills, as well as oral and written communication skills. Proficiency with Adobe Creative Suite, HTML and CSS preferred.
In depth knowledge of SEO and Adwords programs.
---
Financial Solutions Specialist – Parma
We are looking for candidates that are passionate about helping customers with their immediate and future financial needs while seamlessly transitioning between teller and platform roles throughout the day. The FSS is responsible for providing an exceptional in-branch customer experience by handling customer needs from sales to service, including performing teller transactions, opening new accounts, taking loan applications, completing loan closings, and everything in-between. To assist customers and potential customers with their Credit Union needs; providing expertise with respect to more complex Credit Union services such as IRAs, share certificates, electronic funds transfer, online banking, etc.; 2+ years' experience in: cash handling, customer service, computer usage and sales preferred with a minimum of a high school education.
---
Member Contact Center Representative – Downtown Cleveland
We are seeking a representative for our Member Contact Center. The ideal candidate will be responsible for performing a variety of member services via in- and out-bound telephone calls, email exchanges and online chats. This individual will provide service and support for a variety of member requests, some of which may be routine and others which may involve research and problem-solving. Previous cross-selling success, a desire to assist members in expanding their relationship with the credit union, the ability to uncover opportunities using a needs-based assessment, the ability to confidently recommend solutions, excellent public relations skills, and a solid understanding of credit union products and services are required. Efficiency, accuracy, and professionalism are vital for this position. Good credit is important to us.
---
We are seeking to fill the role of Part-time Teller to assist members with their financial transactions. Job duties include processing financial transactions such as deposits, withdrawals, and loan payments; completing requested transfers, receiving and distributing cash and other negotiable instruments and maintain member records. Will be required to balance cash drawer and daily transactions. The candidate is expected to provide prompt, accurate, courteous and professional service. Will be required to have and keep a good credit history. This person must possess great communication and interpersonal skills and be detail oriented. Will be required to operate a 10-key calculator and computer keyboard by touch and have basic computer skills. Must work Saturdays. The ideal candidate will have 6+ months of experience in financial services, retail, hospitality or related services. Good credit is important to us.
---
Having trouble applying online? Contact our HR Department about careers and jobs: Call 216.621.4644 x 1197 or email: hr@ffcommunity.com.
Equal Opportunity Employer. FFCCU is a not-for-profit organization dedicated to providing a full spectrum of financial services.