Great Rate VISA Credit Card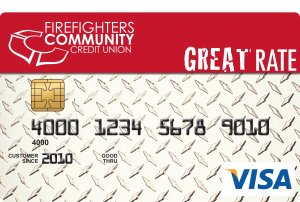 1.99% introductory APR for 12 months*

$0 balance transfer fee

APR as low as 8.75% after introductory period

No annual fee

If you tend to keep a balance or are looking to consolidate debt, this is the card for you! Transfer balances over from other high-interest credit cards to the Great Rate card to save time and money. New Card Holders: Receive a 1.99% introductory APR* on balance transfers made within 60 days of card activation and a $0 balance transfer fee!
*Rate is good for 12 months after first balance transfer occurs. After the introductory period ends, the Variable APR applies.
*Learn about our VISA Credit Card Rates and Interest Charges here.

Ask our Member Contact Center by calling 800.621.4644 or chat with them on line by clicking the red "Live Chat" button on this page.


As of November 15, 2017.
Visa Credit Card Rates
Great Rate Card
Most Rewards Card
Annual Percentage Rate
8.75%-16.75% APR
Variable
10.25%-18.25% APR
Variable
Looking for a card with the Most Rewards?