Real Members. Real Stories.
So, what's your story?
At FFCCU, we are real people, helping other real people – just like you. That's our story. Now, let's hear your story!
Tell us how have we helped you accomplish a goal or turned a dream into reality? Maybe your story is similar to the one that local-celebrity and fellow member, Erika Lauren shared with us. Or, it could resemble something similar to the posts we've seen on Kudos or the Dare2Compare Successes we've witnessed. Whatever the story, we want to hear it, from you, in your own words.
Check out some of our FFCCU Members' Real Stories here.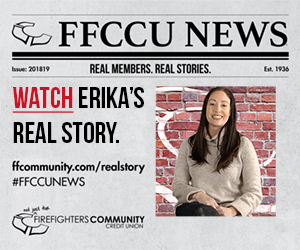 Tell us your story and get the red carpet treatment!
Use the form below or give us a call at 216.621.4644.
Twelve (12) stories, from those submitted, will be chosen and members will be offered the opportunity to be featured in a video, filmed at the iHeartMedia Studios! We'll roll out the red carpet for these members, giving them a tour of the studios and a meet and greet with fellow member and real-life celebrity, Erika Lauren. They'll also receive a special thank you including FFCCU swag and their choice of $100 to be deposited in their account or donated on their behalf to MDA!*
*Member must be 18 years or older to submit