Direct Deposit and Wire Transfers
FFCCU ABA/Routing #: 241075726
Direct Deposit
Set up direct deposit to have some or all of your paycheck go to a single or multiple FFCCU accounts! Simply download the Direct Deposit Form. Fill out the form, and provide it to the institution where funds are being distributed from. Need help? Fill out this quick form and we'll reach out to help!

Direct Deposit allows you to automatically deposit funds into an FFCCU account. This saves time and hassles and ensures your money is where you want it to be on-time, every time. You can allocate all of the funds, or designate portions to funnel into different accounts – even to make loan payments.
How to set up Direct Deposit:
To direct funds to a specific account, use your member number followed by the 2 digit share ID. An example of the account number can be found in your online banking for easy access. See the sample below.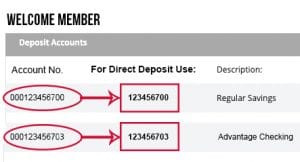 Give this filled out form to your employer and you're set! Follow up with them to ensure everything is taken care of on their end.
Get Help With Setting Up Direct Deposit
---
Wire Transfers
SENDING WIRED FUNDS:
To send a wire, FFCCU members must provide FFCCU with the outside institution's wiring instructions.
Fees: Outgoing domestic (U.S.) wire – $25; outgoing international wire – $50
RECEIVING WIRED FUNDS:
To have funds wired into your FFCCU account, please provide the receiving wire instructions below to the sender.
Fees: Incoming domestic (U.S.) wire – $10; incoming international wire – $15
Receiving Wire Instructions Domestic (U.S.):
Send to: NCB, FSB
ABA/Routing Number: 242272227
Credit to: Firefighters Community Credit Union
Account Number: 241075726
Further Credit: Member name, address, and account number
Purpose for Wire: State reason funds are being wired into the account
International (outside the U.S.):
Send to: Wells Fargo Bank
Bank Swift Code (US Dollars): WFBIUS6S
Bank Swift Code (Foreign Currency): WFBIUS6WFFX
Intermediary Bank: NCB, FSB
ABA/Routing Number: 242272227
Beneficiary Bank: Firefighters Community Credit Union
Beneficiary Account Number: 241075726
Further Credit: Member name, address, and account number
Purpose for Wire: State reason funds are being wired into the account