Call For Nominees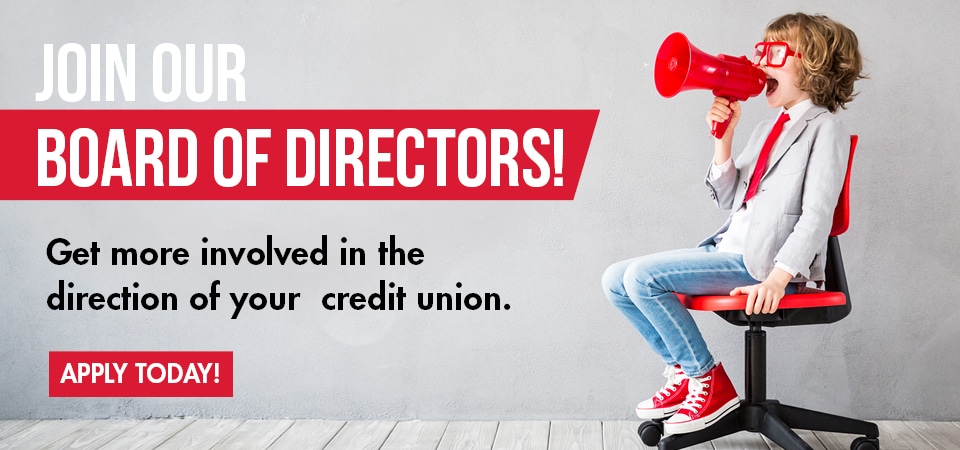 Submissions are due Monday, November 9, 2020 at 4pm EST.
Board of Directors Candidates:
Must be at least 18 years of age.
Must currently be, and have been, a member in good standing for a minimum of 12 months prior to the application deadline.
Normally requires a three-year term.
Minimum availability of five hours per month including attendance at all board and committee meetings. Board meetings are conducted once per month on Thursday mornings.
Review agenda and supporting materials before board and committee meetings and come prepared with questions/comments/suggestions to discuss.
Attend educational training as required.
Be informed about the credit union's mission, services, policies and programs.
Keep up-to-date on developments in the financial services field.
Serve on committees and offer to take on special assignments.
Suggest future nominees who can make significant contributions to the work of the board and credit union.
Adhere to conflict of interest, confidentiality and all credit union policies.
Serve as a credit union ambassador in the community and financial industry.
Relatives of FFCCU teammates are ineligible to serve on the Board of Directors.

Ability to listen, analyze, think clearly and creatively, and work well with individuals and groups.
Willingness to prepare for and participate in board and committee meetings, ask relevant questions, take
responsibility and follow through on a given assignment, open doors in the community, and conduct
self-evaluation.
Willingness to cultivate and recruit directors and other volunteers, read and understand financial statements, and
learn more about the strategic challenges facing the credit union.
Demonstrate honesty, sensitivity, tolerance of differing views, a friendly/responsive/patient approach, networking
skills, personal integrity, a sense of values, and genuine concern for the credit union's development and success.
---
For a printable application click here.