Most Rewards VISA Credit Card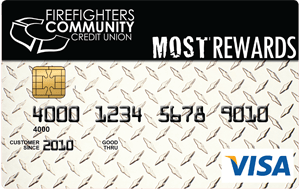 Earn points with every swipe!

Redeem points for travel, merchandise, or cash!

No annual fee

New card holders can receive 6,500 bonus points in the first 90 days!*

Most Rewards is GREAT for:

• Booking Travel
• Restaurants

• Grocery Shopping
• Online Shopping
• Travel
• Gas Stations
Earn points with every swipe! Redeem your points for travel, merchandise or convert Points-2-Cash. You can also make a charitable contribution to MDA or Rainbow Babies and Children's Hospital using Points-2-Charity.
Redeem cash in three different ways:
1. Direct deposit to Member's FFCCU Share Account.
2. Account credit back to VISA to reduce outstanding balance.
3. Donation to MDA or Rainbow Babies and Children's Hospital.
*New Card Holders: Receive 3,250 rewards points after completing your first purchase and an additional 3,250 rewards points after spending $500+ within 90 days of card activation.

As of November 15, 2017.
Visa Credit Card Rates
Great Rate Card
Most Rewards Card
Annual Percentage Rate
8.75%-16.75% APR
Variable
10.25%-18.25% APR
Variable
Looking for a card with a Great Rate?

*Learn about our VISA Credit Card Rates and Interest Charges here.

Ask our Member Contact Center by calling 800.621.4644 or chat with them on line by clicking the red "Live Chat" button on this page.