Sparky's Kids Club|Youth Accounts
Join the club!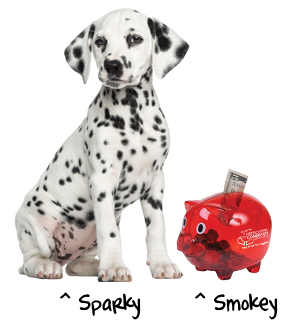 When you open a Youth Savings Account for children 12 and under, they'll become part of Sparky's Kids Club! Membership helps kids discover the fun in saving, all while learning how to budget.
Sparky, our Dalmatian, and Smokey, the piggy, team up to educate our youth members in a fun and interesting way. Kids that develop good savings habits early, tend to keep them throughout life!
Help kids learn this important life skill by opening a youth account. They'll thank you some day!
Club members receive these perks and more!
Sparky's Kids Club Newsletter filled with fun savings facts, recipes and a quarterly contest.
A birthday card from Sparky plus an opportunity to earn some extra birthday cash!

Simply bring their birthday card into any FFCCU branch during their birthday month, make a deposit of at least $5, and FFCCU will deposit an additional $5 in their  Youth Account*as a birthday gift from Sparky!

Smokey, the piggy bank.

When a youth account is open in branch, your child  receive their very own piggy bank, " Smokey". Kids will "adopt" him and take him home – fill him up with money – and when Smokey's full, bring him back for a "piggyback" and we will match your child's deposit!*  They will quickly see how fast savings can add up.

A chance to "dig" into Sparky's Treat Jar when visiting an FFCCU branch.
Coloring Pages and stickers
*One (1) match per youth account member per month. Piggy bank must be full to receive match. Matches will be made up to $5. Offer may be cancelled at any time.
---
Share your success for a prize!
Ask an adult to help you tell us about your savings goal and how you achieved it by using #SparkySavings on social or emailing us at Sparky@ffcommunity.com. Be sure to include a photo!**

---
Newsletter Coloring Contest Entries
Thank you to all the kids that colored and submitted their Sparky & Smokey contest entries. Here are the entries below, great job to everyone! Keep your eye out for the next newsletter to see what fun Sparky & Smokey are getting into! Congratulations to the winner, Teeghan. Enjoy the gift card, Teeghan!
---
Current Rates:
As of January 15, 2018.
| Account Name | Min. Balance | Dividend Rate | APY* |
| --- | --- | --- | --- |
| Sparky's Club Savings-Youth Account | $50+ | 0.05% | 0.05% |
*APY = Annual Percentage Yield. Dividends are credited to your account and compounded every month. Minimum balance requirements apply to average daily balance.*Click here to view full rate disclosures and policies. Call 800.621.4644 for current rates as they are subject to change at any time and without notice.
**Success story must be shared by parent or legal guardian of the FFCCU youth member. By sharing a success story, you agree that FFCCU has full permission to use the photo and or story in any of our print or digital advertising.